Next day I took a tour of Salzburg, a charming city indeed. In the Old Town I heard music coming from all directions. After all, it is the city of Mozart.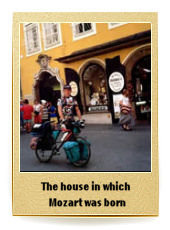 I also visited the beautiful German city of Passau. Its cathedral prides itself on the world's largest pipe organ. Another interesting spot in Passau is the place where the Inn River joins the Danube. As soon as I crossed the border with the Czech Republic, I realised how much below European standards the country was at that time. Poor roads and road signage, no benches at bus stops, outdated shops, lack of tourist information centres, restricted access to toilets, and less friendly people. I stopped for a while in Prague, which was full of flocking tourists from Poland and Japan.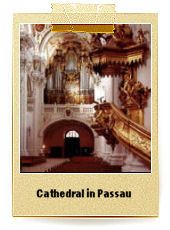 On the following day, having covered a distance of 140 km, I arrived in Jelenia Góra. At the Polish border I had tears in my eyes. Two months outside of the motherland were long enough. Next day, after another 180 km, I reached Leszno. That was the longest part of my journey. I spent a night at my aunt's place. Starting from Kościan, I was "escorted" by a friend of mine, who did his best on a fold-up bike. Finally I got to Poznań – overjoyed that I had achieved what initially seemed impossible.