Igor Czajkowski
I wasn't born with passion for cycling. I got infected with this virus in 1993, during the times of mountain bike madness in Poland. My first Biria with Shimano C30 gear I think, weighed around 20 kg, but it was a mountain bike! It had of course a rigid fork, cause the suspension fork was far beyond my reach. I rode that bike like crazy every day, even at -10C. I smile when I recall me making my own spiked tires, as one could get a pair of these only in the West, and for a price that gave one a headache. Riding on them was strange as the spikes made of sheet metal screws protruded from the tire some 5 mm. I did not realize then that I have just invented ice climbing tires ;-)
A breaking point in my life was an article by Piotr Kondrat about his bicycle expedition to Italy, published in the "Rowery" monthly magazine (once it was the only bicycle periodical available in Poland). When I read the colorful description of his adventures my brain started to work hard. I felt a desire to do something unusual, something that would be a major challenge and that I would remember till the end of my days. I put all my eggs in one basket: an expedition around Alps. I ran amok. Nothing mattered more than making this dream come true. And I made it, although it did cause a certain twist in my life.
When I returned I started to plan for another journey. This one was totally financially unattainable for me at that time. Japan. Pure madness! I infected my friend with it. We both went through this month-long infection in such a good shape that until now we laugh our heads off when we recall our Japanese adventures. By the way, the fact that we managed to find so many sponsors for this expedition was some kind of a miracle.
At that time, somewhere along my way I met Lucyna. She bravely endured weeks of separation (e.g. during my expedition to Madagascar) or the sinusoids of my mood such as the ones after my tour around Poland. Lucyna understood that I am a free spirit and that I need new and more difficult challenges every now and again. Then an idea came into existence to create a bicycle company that would once be able to finance our expeditions, and at the same time give us and our customers joy. This way Cyklotur was born.
After my expedition to Cuba, Lucyna stated that she has had enough of listening to my tales of all these fantastic adventures. She was ready to wade into the unknown at my side, and I realized that nothing makes you more happy than sharing your happiness with the person you love. And so, since the Mexican expedition we have been going through our bicycle frenzy together.
Lucyna Czajkowska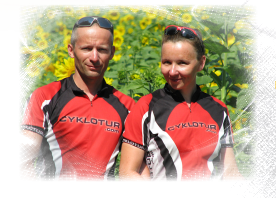 I am an ordinary woman, who in spite of the passage of years has always tried something new. I think that life is too short to sit and do nothing only because one cannot do what one really dreams of. My interests go beyond my capabilities. I quickly get enthusiastic about something and sometimes cool down equally fast. That is why I am not perfect at anything I do. Nevertheless, I think that since I put my heart and soul into everything I do, it is not so bad ;-)
My first bicycle was WIGRY-3. Bought "as a special favor" in Motozbyt, several dozen meters from home. I remember that I got home crying, cause the chain fell off just after getting on the bicycle. Then, for a long time, nothing, until the last year at the college, when I got to know Igor well. At that time I lived in a small town near Poznan, and I remember how shocked were the ladies at the cooperative bank about me taking out a 1000 zloty loan to buy a bicycle, instead of a fridge or a washing machine, as others did! My SCOTT Yecora got immediately a pair of SPD pedals from Igor, which "provided me with an opportunity" to totally bite it several times, after trying to disengage without success ;-) Then, it got fortunately better. I persuaded my friend to go with me for a trip to Mazury (bicycle one of course) without even knowing how to patch a tube! Then there was Slovakia and Czech Republic. After that only Igor had time to go on expeditions. I had to take care of our company.
And now? I love going on expeditions with my husband and easily accept the risks and all the adventures. I have never had any regrets!
I love spending time in the kitchen. Absolutely nobody and nothing is allowed to disturb me then. I love to put the kitchen apron on when I am mad at someone or have much more urgent matters to attend to ;-)
I have been cooking for many years and riding a bike just for a few. Igor and I, we both hate crowds and large cities, that is why ideas for bicycle expeditions for the two of us come to our minds easily. Each time I challenge myself and I have emerged victorious so far. My dream is to have enough time to visit the entire world and see, taste and understand as much as possible.