I didn't even notice the moment when I crossed the border with Switzerland. I only realised it when red flags with a white cross in the middle began to appear around. At that point I decided to slightly modify the itinerary for Switzerland. First I headed for Konstanz, whose cathedral offered a magnificent panoramic view. I did not visit Mainau island, famous for its splendid gardens, as I would have had to devote as least a few hours to it. Cycling along the shore of the Untersee, I reached a charming town of Stein am Rhein, also referred to as the "Pearl of the Rhine". Admittedly, it was full of charm and… tourists. Later, in Rapperswill, I visited the Polish Museum that attempts to make the Swiss familiar with Polish history.
Outside of Rapperswill the mountains appeared again. Luckily, my knees were no longer hurting. Instead, the bike started to give me trouble, causing unpleasant sounds at low speeds. Besides the front rack needed welding. On top of that, the weather was getting me depressed. At that point (23 days after the departure) I had only enjoyed a few days without rain.
I headed towards Andermatt, following a picturesque road along the Untersee. In addition to beautiful views of the lake, there were many tunnels. At times, there were separate tunnels for cyclists, properly illuminated. Unbelievable! Such great roads (while ours look like Swiss cheese) and so much attention paid to cyclists' needs! I stopped by the Tellskapelle – as it turned out, a rather unimpressive chapel situated in the place where, according to a legend, William Tell evaded his oppressors. Afterwards I took a fairly challenging uphill route (St Gotthard Road) to Andermatt, and further towards the Furka Pass. As it was getting late, I decided to cross the pass on the following day.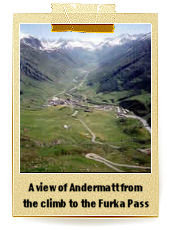 During the "climb" on the Furka Pass I met four cyclists and… four tanks. Before that an escort vehicle came, and I was told by a soldier to pull over in order to avoid being crushed by accident. The tanks climbing up the road made a truly spectacular scene. In Switzerland – a small, mountainous country without proper firing grounds – such "manoeuvres" are not infrequent.
At the pass (elevation 2436 m) there was a thick layer of snow, but it was warm enough to cycle in a T-shirt. The views were remarkable. After a downhill ride at a breakneck speed (71 km/h) I had to climb again, this time to the Grimmselpass (elevation 2165 m above mean sea level). The long downhill section leading to Innertkirchen was a wonderful respite from all the hardships of the day. Then, a few kilometres' ride to Meiringen, a place well known to enthusiasts of Sherlock Holmes' adventures. I found accommodation at some local farm, as usual, deciding to spend two nights there.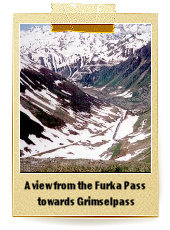 Next day I wanted to cycle around without the luggage, but before that the bike required a check-up. Summer finally came and I felt much better. The weather must not be underestimated during such expeditions.
And so, on the following day I started my conquest of the Alps, travelling luggage-free for the first time. Before I set off, I needed to get the "cracking" low speed replaced. It cost CHF 35, but still needed some adjustments in order to make it compatible with the STX groupset. I started with the Grosse Scheidegg pass. Without the luggage it felt as if my "engine" had a turbo-charger. It took me 2,5 hours to cover a distance of 26 km and an elevation difference of 1370 m. Not a particularly impressive result, but after all I was not racing anyone.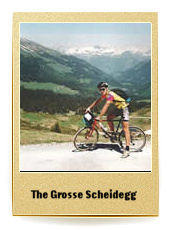 Having reached the top of the Grosse Scheidegg (1962 m) I was astounded with the most impressive panoramic view I had seen in my life! Majestic peaks of Jungfrau, Eiger and several other mountains rising to an elevation of around 4000 m overlooked the village of Grindelwald. Following a curvy downhill road, I reached the crowded Grindenwald. Having stepped harder on the pedals, I soon found myself in Interlaken, and then took a well-marked bicycle route to Meiringen. In the meantime I raced another cyclist, tailing him for a few kilometres at an average speed of 34-38 km/h. When we got to an uphill climb, I attacked. My pulse rose to 190 beats per minute! After a few hundred metres my opponent gave up, and I reached Meiringen completely exhausted.