After stopping by in Merano and Bolzano, I went farther into the Dolomites. My intention was to take the Grosse Dolomitenstrasse, but I got lost somewhere on the way. In order to get back on the right track, I needed to take an exhausting climb to the village of Steinegg (Collepietra).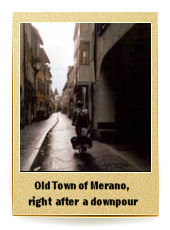 Even though it was still Italy, I had an impression I was in Austria. Signs in German language everywhere, accompanied by typically Austrian architecture. I later learned that the area used to belong to Austria before World War One. After crossing a nameless pass (elevation1349 m), I had an opportunity to admire a beautiful range of the Dolomites, with a major peak – the Schlern. The soaring crags, vertical faces and brown colour of those mountains made an unforgettable impression. How different they were from other parts of the Alps.
I finally reached the Grosse Dolomitenstrasse and got to Passo di Costalunga (1745 m). In Pozza di Fassa I sat on a bench near a house to wait until a hailstorm subsided. Some people from the house invited me to dinner. Spaghetti with good wine tasted excellent.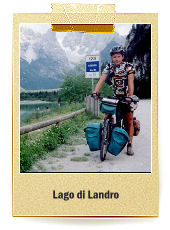 Next day brought more passes. At first Passo Pordoi (2239 m), followed by Passo di Falzarego (2105 m). The climbs were fairly gentle. A 16 km downhill ride lead to Cortina d'Ampezzo – the capital of the Dolomites. I stopped there for a while to admire a magnificent panorama of Cortina. The town itself was not particularly interesting, but it must look beautiful in winter. Crossing the Cimabanche pass (1529 m) on the way to Austria, I bid farewell to the Dolomites. [Lago di Landro]