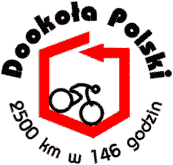 Date:
24 – 30 August 1997 = 146.5 hours
Distance covered by bicycle:
2435 km
The idea
came to me during my cycling expedition to Japan in 1996. Somewhere along the climb to the holy Mount Fuji, I got this crazy idea to cycle around Poland in 6 days the following year. Considering my lack of a professional career and the fact that I only had long distance expeditions round the Alps and Japan, it was indeed a crazy undertaking. &quotImpossible!" – some of my friends responded – &quotMan, you can't make it!". That gave me even more motivation to train hard.
I started
training and physical preparations
early that year. early that year. However, from the very beginning the process left a lot to be desired. The weather was truly discouraging, and besides, I had problems finding a job after I graduated. Finally, in March I started working for CPC Amino and the painstaking trainings begun. Each day after work I quickly ate a proper meal (usually a supplement drink) and off I went, covering about 100 kilometres, which translated into 3-4 hours of cycling. When it was getting dark, I would come home for supper, then take a shower and go to bed. That was my daily routine except for weekends, when I tried to cycle 150-170 km. When the weather was bad, I spent 3 hours in a gym.
Organizing the event.
This is the part of preparations I enjoy the least. I get goosebumps whenever I think of seeking sponsors, arranging fruitless talks and so on. That time though, I was lucky and I found sponsors quickly. Yet, there were still many other things to take care of. I needed to assemble a whole team comprising: a physician, a masseur, a mechanic, drivers, etc. The route had to be carefully planned and at least partially inspected (especially in the areas that suffered from floods shortly beforehand). I had to book accommodation; obtain permits for launching and closing the event at the Old Market Square; contact the media; properly prepare the equipment, namely 2 bikes – a road bike which I would use on a daily basis, and a mountain bike with road tyres, in case the road was rough; properly prepare the vehicles – one that would be the lead car and a van with the crew, food, and equipment. These were just a few things, but there was a lot of work behind... I would not have been able to handle it all if it had not been for a few people from my company.
The crew
had their hands full all the time. In the morning they had to pack up very quickly in order to save as much time as possible at the start. As a result, there was no breakfast – I only got a sandwich made by Ania or someone from the van. I was escorted by Piotr Wrotyński and Anna Nogala. When talking on CB radio with the van – our &quotbase" – they called each other &quotbeetles". Their tasks included shopping, providing food, guiding me, inspecting the route and so on. Ania had two other serious duties: making supper for the whole crew and washing my sportswear. Although I had 3 cycling outfits, it was not enough for so many days. In the van there were five people: a physician - Przemysław Kubala who had a headache on the first day, a stomach ache on the second, and on the third day one of his fillings fell out. Then there was a masseur - Andrzej Tucholski who - apart from working on my muscles - was also my psychotherapist, as he was able to motivate me to continue cycling in several moments of breakdown. There was also a mechanic – Marek Stajkowski – nicknamed &quotthe Menace" after just two days, since he was unlucky in nearly everything he did. One day I was really furious to have got yet another flat tyre. Luckily the repair was done in a flash. After a few seconds, supported by my masseur, I was able to move forward. Marek really worked hard during this trip, each evening preparing the bikes for the following day. After I got caught in the rain near Szczecin, he had to wash and dry them thoroughly. I know how much effort it takes, so I really appreciate his work. In the van there was also Jacek Łuczak – a journalist from &quotGazeta Wyborcza". He was my spokesman (giving me more time for cycling instead of talking to the press) and he answered dozens of calls from newspaper reporters and the RMF FM radio station, the patron of the whole undertaking. Jacek could fantastically fill the whole crew with positive energy. Even when they were very tired, they laughed their heads off at his jokes.
The van was driven by Damian Jędrusiak. I have never before met a man with such resistance to stress and fatigue. In the evenings, whenever I asked him &quotHow are you feeling?", the answer was always &quotOK". Not even a single word of complaint that he was in pain or tired. I do not know how, but he drove the whole 2500 km route all by himself. Imagine yourself driving 30 km/h for 400 kilometres each day. Even the toughest guy would give up.