On the way to Chamonix, I crossed one more pass: Col de Montets (1461 m).
Chamonix was buzzing like a beehive, so crowded I could barely move forward. I found myself in the middle of the award ceremony of the 17th Cross de Mont Blanc cross country race. A local tourist office was crowded as well, so I decided to leave the place ASAP. In the meantime I met an Australian who had the same recipe for a nice holiday as me. Unfortunately, the "White Mointain" was shrouded in clouds, but at least I could see beautiful glaciers. Between Chamonix and Le Fayet I enjoyed an excellent downhill ride, but since that was a motorway (or at least I thought so) all the speeding cars were stressing me out. Outside of Le Fayet, I encountered another climb – extending for around 10 km – and then a 20 km long ride down in the beautiful Gorges de l'Arly valley.
On the way to Albertville I was caught in the rain, so I took shelter at some home. The owner invited me in. It wasn't easy to communicate, as he only spoke French, but we made good use of paper, electronic translator, and our hands. I took a tour around dormant Albertville. Not a particularly interesting city. A steep uphill ride to Conflans gave me a panoramic view of Albertville.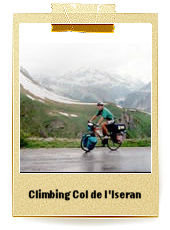 Wandering around some side roads (due to poor markings on the bike route) I got to Bourg-St. Maurice and then – after a 30 km climb – to Val d'Isere. It was quite a nice section, especially in terms of scenic views (e.g. the Barrage de Tignes dam), but somehow dangerous towards the end, because of dark tunnels with sharp turns, and holes in the road surface. In Val d'Isere I met two cycle tourists from Geneva, who followed a very similar route from Albertville to Turin. We faced a 16 km climb to the highest paved mountain pass in the Alps - Col de l'Iseran (2770 m). Travelling with less luggage, they cycled faster.
Nevertheless, time flew by as I was joined by a nice Englishwoman (also on a bike). We cycled and chatted. Since she was without any luggage, I had to do my best to keep up with her, obviously pretending that the pace was just fine. Around two kilometres before the pass, a violent storm broke out. The English lady turned back, but I had to go on. Lashing rain turned into hail, there was lightning, and the temperature fell to 3°C. My hands were numb with cold, the shoes soaked through and my feet felt like blocks of ice. I cycled as fast as I could, feeling my muscles lose their power. Finally I got to the pass, and rushed to a bar where I saw the cyclists from Geneva, soaked to the skin and trembling with cold. Luckily I was saved by a Gore-Tex jacket. A cup of overpriced hot tea got me back on my feet. I also put on a fleece jacket, as I felt chilly. After an hour the storm subsided, and off I went!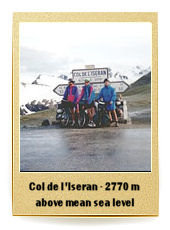 My new colleagues put newspapers under their jackets to keep them warm during the downhill ride. I didn't need such solutions. I put on my warmest clothes and leather gloves. With thermal comfort ensured and... a bit of craziness which I like to indulge myself in, I rode faster than the Genevois. I spent that night in Lansebourg, at an interesting house built of river stones, its interior full of sculptures made by the owner's wife. My host was a high-altitude climber who travelled with Kukuczka, the famous Polish alpinist. His son climbed Mount Everest when he was 17. There also was a friend of the family, a 50-year-old triathlete, who took part in the 1994 "PowerMan", one of the most demanding triathlon competitions. In 1996 he was to participate in "Ride Across America", which involves cycling for 4700 km in 10 days! Talking to such people, I felt insignificant, and my expedition seemed like a Sunday jaunt.
Having charged my batteries with the energy that emanated from those people, I headed for Col du Galibier, reportedly the most beautiful Alpine pass. First I got to Col du Telegraphe (1566 m). The climb was fairly difficult, and one kilometre before the pass I literally "drowned" in clouds. After a short downhill section to Ballore, the road went up again. It was already too late to conquer Col du Galibier that day, and besides it started to rain. I found shelter at some inn. The owner decided not to charge me for a room with a bathroom. I was speechless. Local people were just incredible.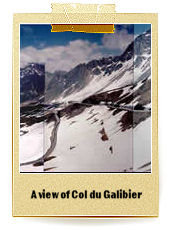 The climb to Col du Galibier was really challenging. For the most part of the section (13 km) I cycled at the highest gear my bike had (STX: 24 front/28 back). I met a few dozens of road bicycle racers on my way. They were training. I will never forget the view I saw at the pass (2640 m). My efforts were fully rewarded. There was still snow on the rocks, and nothing else within sight but mountains, rising to three or four thousand metres. I almost shot an entire roll of film there, promising myself some day I would come back.
Then I indulged myself in a breakneck downhill ride to Briançon, passing Col du Lautaret (2058 m). I realised that going down was worse that climbing up, because I didn't have enough time to enjoy the views. I had to focus on the road and on the bike, but after all I love speed and the whistle of the wind in the ears.
On the previous day I noticed a serious crack on the rim of the rear wheel. I could not continue like that. At a bike repair shop in Briançon they wanted FFR 400 (Franc was the French currency at that time) for a rim and wheel centring, which was quite a shocking amount to me. I went further and found a repair shop, whose owner spoke excellent English. I paid only FFR 210, and got an identical rim to the one they offered in the first shop.
I visited the old district of Briançon, with very interesting fortifications. I left the city at 3.30 pm, and headed for Col d'Izoard (2360 m), reaching the destination at 7 pm.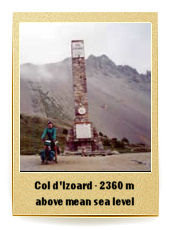 While going down afterwards, I admired Europe's unique, amazing eroded forms.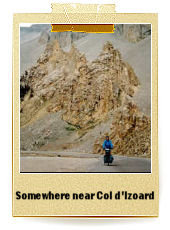 However, due to poor road surface – full of holes and patches – the ride was not that enjoyable. I must admit that French roads were similar to ours. What is interesting, people in Austria and Switzerland did feel like taking care about roads, while the French did not. When climbing uphill I did not mind the bumps, but while speeding down each hole posed a deadly threat. I kept pressing the brakes, going 20-30 km/h. In effect, after half an hour my fingers were numb due to clamping down hard on the brake levers.
After yet another pass – Col de Vars (2109 m) – I reached Jausiers, following which I faced a 24 km climb to Cime de la Bonette, the highest road in the Alps and – supposedly – in Europe (elevation 2802 m). One kilometre ahead of Cime it started raining. As I was approaching the destination, the rain subsided, but the clouds remained and I could not enjoy the view.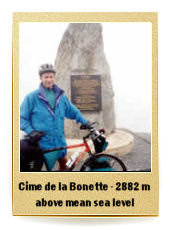 I met a group of Frenchmen who offered me some coffee and cookies. They told me I was crazy to go so high with such a heavily loaded bicycle. I smiled and agreed with them. By way of digression, people would often ask me why I was doing it. I would usually smile and tell them "For fun", but I know some of them could not understand it. Wasn't it worth climbing so high, if then I faced a 100 km downhill section stretching as far as Nice?! I had to be cautious at the beginning, as the road was full of holes, but then the ride became sheer pleasure. My cycling day finished at 9 pm, after a 70 km downhill run, and a distance of 144 km in total.