I arrived in Nice, following a well signposted route. I did not decide on sightseeing, however, because the traffic was heavy and inhaling exhaust gas was not to my liking. Instead I went to a beach to admire the turquoise of the Ligurian Sea.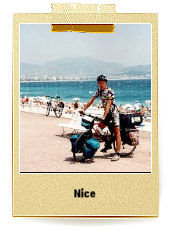 Following a seaside promenade I cycled to Monaco, but the road was easy at all. There were some climbs, and the temperature in the direct sun was reaching 50°C! Besides, it was difficult to breathe because of high humidity. I drank a few litres of "Isostar" to quench the raging thirst. Finally I arrived in Monaco – the turning point of my expedition. It was a beautiful city, with incredible tunnels and a harbour full of luxurious yachts.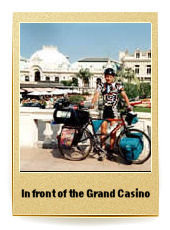 Obviously I saw the characteristic building of the Grand Casino, where the admission fee was USD 50 (for the first game).
I decided not to break the bank there, especially that my tuxedo was not ironed. I took a look at a few fancy cars and left Monaco with a sigh of sorrow – from that day on I started a return journey.
The distance I covered thus far amounted to 2880 km.