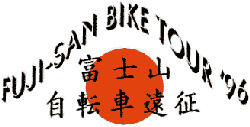 Date:
27 September – 1 November 1996
Participants:
Sławomir Sieńko and Igor Czajkowski
Distance covered by bicycle:
3000 km
This expedition had been a long-held dream of mine. Ever since I was a child I have been fascinated by the Land of the Cherry Blossom, its ancient culture, arts, and everything related to 'bushido' – the way of the warrior. In terms of logistics, it was really difficult to prepare this journey, especially for financial reasons. I was just a humble student at that time, and Sławek's sales rep position was not very lucrative either. Moreover, the difference between the purchasing power of the Japanese yen and that of the Polish zloty was immense (meaning that for an average Polish salary we could afford very little in Japan) – in short, no comparison with today. Eventually, with a few hundred dollars in our wallets we set off for a journey across Japan, which lasted over a month. It was a crazy idea, bearing in mind that the cheapest accommodation in a youth hostel cost around 15 USD per person. In this context, it is easy to understand why we would sleep in a park, under a bridge, or next to a cemetery. We were determined to save money whenever possible, which undoubtedly left us with colourful memories of many unforgettable adventures, not to mention the absolutely unique nights spent at homes of various people who agreed to put us up. One thing is certain: what we experienced when travelling around Japan this way is beyond the reach of a typical tourist!
One of the highlights of this tour was an attempt to reach the summit of Fuji-san with our bikes. It proved impossible because – firstly – we discovered the road to turn into a rocky traverse starting at around 3300 m, and secondly – the route was covered with fresh snow which began to fall on exactly the same day, for the first time that year.
At the end of the journey, we visited Shimano factory, where we were honoured to watch the manufacturing process of this company's bike components.