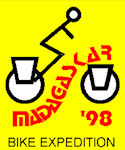 Date:
6 October – 6 November 1998
Participants:
Igor Czajkowski
Distance covered by bicycle:
2100 km
This expedition was very difficult for two reasons. Firstly, various obstacles emerged during preparations, on top of which my passport got lost – together with the visa – after being sent by registered mail from the Malagasy Embassy in Bonn, just a few days before my departure. Luckily, I managed to reschedule the flight and arrange a new passport in just two weeks, but it put me under a lot of stress.
Secondly, it was a solo journey and, this time, completely into the unknown. Before setting off I didn't manage to learn much about the possibility of crossing certain sections of the route by bike, or finding accommodation on the way. Still, I did find the tips from the Oblates very helpful. Another difficulty was that the locals spoke hardly any English. Finally, several parts of the route where literally uncycleable, the roads being covered either by boggy sand or rocks. Some sections were truly spectacular, like the 41 km long dirt road through the desert. I succeeded in reaching Madagascar's third highest peak with my bike, namely Tsiafajavona with an altitude of 2643 m.
However, this journey stands out in my memory chiefly because of the unique natural beauty of the Red Island. Most species of the local fauna and flora are endemic, which I had a chance to see in several national parks. Besides, this country is fascinating due to its ethnographic and cultural characteristics. Madagascar is so colourful that calling it the Red Island seems a bit unfair.