Next day I had jelly legs after the racing. Cycling along the shores of Lake Brienz and Lake Thun I reached the city of Thun, where I bought a "Low Rider" type front rack made of aluminium. All my problems with the front rack would soon be over. After mounting it, I was surprised with its rigidity, and the overall effect it had on the stability of my bicycle during the ride. The front panniers finally stopped swinging.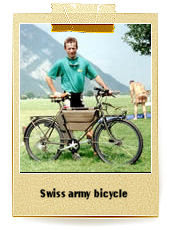 On my way I met a cyclist on a Swiss army bicycle. Despite its massive construction, the bike was not much heavier than my Biria. Fitted with Shimano accessories and Magura hydraulic brakes, it also featured a leather bag for holding weapons and ammunition under the top tube.
I passed Gstaad – the city competing against St. Moritz for the highest number of snobbish visitors. This is where Switzerland's biggest tennis tournament is held, namely the Swiss Open. From the Col du Pillon pass (elevation 1546 m) there was a fantastic (fast and picturesque) downhill road to the outskirts of Aigle. When I reached that place I was overjoyed, amazed like a child with all the beauty that surrounded me. Valleys and terrace vineyards cascading down the hillsides looked marvellous. In a "Sport Discount" shop I asked about a fork, since mine was slightly bent, as I have already mentioned. After some haggling, I bought an aluminium fork for CHF 15, which was cheap even for me, let alone the Swiss standards. In Switzerland, that price translated into three loaves of bread. I replaced the fork immediately, but it turned out that the "Low Rider" clamping rings were too small. In effect, the front panniers could not be mounted, so I was grounded. I hung the panniers on my arm and walked the bicycle to a camping site. An overnight stay cost me CHF 12, including access to a swimming pool.
Next day I found a locksmith, and asked him to make bigger clamps. Once again, thanks to human kindness I did not have to pay a single penny.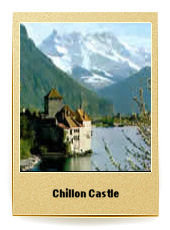 I packed my things and set off to see Lake Geneva, Montreaux, and the Chillon Castle, made famous by Byron.
Then I went back to Aigle and headed for Martigny. I passed many cyclists on my way. Some of them talked to me and wished me luck. In Martigny I spent a night at a place, whose owners totally surprised me with their hospitality. In the evening they served pizza and 5-year-old Bordeaux called Cellier des Chartrons. The hostess said they kept this wine for special occasions. Moreover, everyone told me they would not let me leave on the following day. I tried to explain that I was already four days behind schedule. In the end I gave up, which was quite pleasant, because the hosts promised to make raclette especially for me.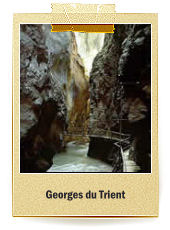 I did some luggage-free sightseeing around Martigny and its surroundings, e.g. Gorges du Trient. Still, it was Austrian Liechtensteinklamm that made the greatest impression on me. In the evening we had raclette. It is a dish made of raclette cheese. A half of a cheese round (weighing 2 or 3 kg) is heated from the top in a special oven. The melted part is scraped with a knife, directly onto diners' plates, and then the entire process is repeated. The dish is served with jacket potatoes, gherkins, pickled onions, and of course with wine. The hosts asked me: "Igor, why do you go to such great pains? You could stay with us for a month, and then take a train back to Poland. You might even tell your friends you have covered the entire route". And they added: "You must visit us for holidays next year".
Well, enough of this idleness! After two amazing days spent with this lovely family, I packed all the food they supplied me with, and set off for Col de la Forclaz. Reaching the pass took me three hours. I was very thirsty, and I couldn't get water anywhere. To my astonishment, at the top of the pass (1527 m) I was welcomed by the family from Martigny. They were sitting at a restaurant and asked me to join them and order something. Finally they bid me a fond farewell, and I cycled downhill to France.