4 October 2006
I feel under the weather. Letting alone the persistent muscle soreness, I just feel weak.
We decide to get up very early and leave the crowded streets of Kandy as soon as possible. I have a sore throat and something is obviously wrong with me: I have neither energy nor will to cycle. Lucy already refers to this expedition as the first holidays that exhausted her! True – we have had not even a single day at the beach. In Matale we take snapshots by a beautiful, newly renovated Hindu temple.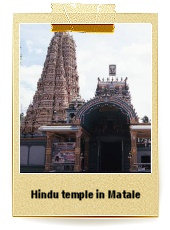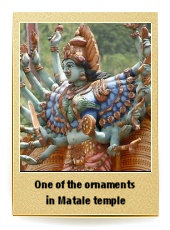 Our spirits sink slightly after leaving Matale. Every now and then I need to wait for Lucyna – she can't keep pace with me today. She says cycling is more difficult, because her luggage is heavier and the bike tends to skid on bends. But there is a different reason: there is almost no air in the tube I patched yesterday. We have no more patches, so we are changing the tube. Unexpectedly, the brand new one has a puncture too! What a day! I inflate the tube, and stop by the next repair shop to have all tubes fixed. It costs just LKR 300. Literally 500m from the repair shop, we pull over to drink some water. When Lucyna approaches her bicycle to refill the water bottle, she can hear air escaping from the tube. What the hell - what is going on? The tube must be changed again. As usual, some people stop by. This time I don't feel like chatting about what my name is, how old I am, and where I am going… because I am mad!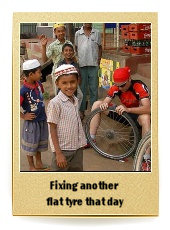 A few kilometres from that spot we decide to stop for lunch. The restaurant is great, especially that next to it there is a garden with benches standing in the shade. An hour after placing an order we are told that they are out of the thing we wanted, and recommend something else. I take a rest at a sofa. The food we finally get is not to my liking at all. Things are getting out of hand. After lunch I am trying to take a nap on a bench in the garden, while Lucyna catches up on writing. Preparing to set off, she notices a flat tyre – again. Frankly speaking, we have almost had enough of this. We have to cycle for another 20 km, so I have to inflate the tube every now and then. Luckily, most of the ride is downhill. I am in such a bad mood that if the road was not so easy, we would have to catch a truck which would take us to the nearest town. Another 3 km and another flat tyre in Lucyna's bicycle. Poor thing – she is getting more and more exhausted with every metre covered. Finally I decide to replace the tube and once again check the tyre. I notice a tiny piece of wire which I must have overlooked before when I found a few thorns, and apparently nothing else. In the meantime some people gather around us, but we have got used to it by now. Tired and discouraged, we arrive in Dambula, finding accommodation in Healey Tourist Inn. A spacious, clean room with a bathroom and hot water costs LKR 1000. We don't even haggle – saving PLN 3 or 6 will not make a difference. Unfortunately I feel I have a fever. We head for the town centre to eat something. With some difficulty, we find a pseudo-Chinese diner that serves just rice and chicken. The food tastes terrible. We go shopping for groceries, and go back to the hotel. My body temperature is 37.6 °C. Excellent! Lucy gives me antipyretics.
5 October 2006
Wake-up at 6 am. My fever has not subsided, but I decide to go to Sigiriya with Lucyna. For safety reasons – if nothing else – I don't want her to travel alone. I will not climb all the way up anyway, staying down to write instead. The ticket costs LKR 2080. Insane pricing! Many tourists walk away disappointed – they cannot afford it. But white tourists must pay – after all they grow money on trees!
Lucyna's interlude:
A guide sticks to me in no time. Knowing just a few basic expressions in English, I tell him "No, thank you for your help". I add a few Polish sentences and he gives up. I am annoyed, because in this country silence and a moment of rest is a rare thing, and you can only be alone in a hotel room. With all the hustle and bustle around me, I am as tired as never before in my entire life. I am also sad that Igor is not with me.
Obviously there are no signs or arrows – nothing! Why would anyone provide these? That might make guides redundant! The climb is easier that I thought – flights of stairs are not excessively long. Still, going up is by no means a piece of cake. The impressive views do compensate for the previous day. I can even see the statue of Golden Buddha from the Dambula temple. I reach a cave with wall paintings, some of them preserved in excellent condition. Initially there were ca. 500 murals, many of them depicting women with naked breasts, wearing traditional garments. A man points to one of the figures on the wall, saying "Mona Lisa". Indeed, no matter if I go left or right, she keeps looking straight into my eyes. No flash photography is allowed. However, a watchman is kind enough to let in some light, by removing the cloth protecting the frescos from light. I go down along winding metal stairs. I have to walk slowly, because I am only half way through, without having eaten anything, without water, and I still need to go all the way down! I take hundreds of photos. It is impressive how they built a fortress on that rock! I have no idea how they could climb up those narrow steps cut in rock, with a precipice dozens of meters below them! What is more, the fortress was constructed in the 5th century, and they were able to supply water to an altitude of 200m! Fountains located at the foot of the mountain have been operating in the rainy season for the past 15 centuries!
I keep going down, and I don't regret paying so much for the ticket. Furthermore, a unique story is related to this place, telling about the self-appointed King Kassapa. In the 5th century, Kassapa expelled from the country the legitimate successor to the throne – his brother Mogallana. On the Sigiriya summit he built an impregnable fortress. When - after several years – Mogallana came back from India to reclaim what belonged to him, Kassapa was so convinced of his power that he decided to leave the fortress and challenge his brother in a regular battle. The fight actually ended before it even began, because Kassapa's elephant got frightened and turned back, which the army understood as withdrawal. Eventually, facing crushing defeat, Kassapa committed suicide.
Igor is waiting for me, looking poor. We go back to Dambula. We need to eat something, and later I want to visit the caves. We must pack our stuff and check out of the hotel. In the meantime we decide that Igor will go to see a doctor, and then we will book a bus to Colombo. Miracles do not happen so often – Igor will not get better by tomorrow, and will not be able to cycle.


The area by the Golden Temple, at the entrance to the caves, is almost empty. Obviously there are some quasi-guides, traders and beggars. I ask where I can buy a ticket. They tell me to go up, so I go up, passing dozens of stairs, only to find an arrow with information that tickets are sold downstairs. I am at a loss, but an arrow is an arrow after all. On my way back, I meet a quasi-guide who tells me to go up. What about the ticket? - I ask. He points upwards. Sweat is dripping down my body, but I have got used to it. Having gone all the way up, I take off my shoes because it is a sacred place. When I try to walk in, watchmen ask me about the ticket, so I answer that I want to buy it. Tickets are sold downstairs, they reply. I am trying to explain that I was told to go up, and I ask if I can buy tickets from them, but they refuse. I am really hacked off. I go back down. I haven't eaten breakfast, and my legs are trembling with effort after climbing to Sigiriya.
I go to the hotel. Igor has come back from the doctor. He paid LKR 200 for the appointment and medications. Diagnosis – most probably it is flu. The drugs are packed in tiny envelopes with stamps containing use instructions. A good solution – you only buy the amount you need to complete the treatment.
Igor has ordered breakfast, so I join in. He is so weak, that after eating a toast he must lie down and rest. I wait for a while and encourage him to eat some more. He must eat to take the pills. We put a compress on his head, and Igor goes to sleep. We stay there one more night – with a 38°C fever he can't go anywhere. I leave him in our room, and sit on a couch in the hall to write down some of our experiences. Two hours later I check how my husband is – no change. I doesn't look good. As for me – some kind of rash appeared on my belly and legs, so I started taking calcium yesterday. All in all, if we account for the days we waited for our luggage and those when we were sick, we have actually had two weeks of holidays rather than three.
I go to buy lunch. Igor wants just bananas. When I am shopping, people buttonhole me all the time. Taking Igor's advice, after lunch I decide to try the caves one more time. A crowd of people there: Sri Lankans and tourists. I can hear various languages – Italian, French and German. Now I know where to buy the ticket. It costs LKR 500. A regular price. While going up, I must once again "challenge" insistent traders, although this time (around 3:30 pm) they are not as numerous as in the morning. With so many tourists around, I can't expect too good photos – I think to myself…
I begin with the end, going to the last cave. It is small, with some statues and magnificent paintings on the vault. I head for the next cave, and then another five. Igor was right about the tip from his guidebook – it works best to start with the least interesting cave, and then gradually increase artistic experiences. The caves gradually get bigger and increasingly interesting. They were discovered by King Valagama Bahu around the year 100 BC. Over the next centuries, numerous temples were built in this place. There is a statue of reclining Buddha, dozens of sitting Buddhas, a statue of the last founder – King Kirti Sri Raja Singh, as well as statues of Vishnu and Hindu gods. I am greatly impressed by the surrounding frescos, with a rich variety of patterns and amazing colours. They are being constantly renovated. In the middle cave the tripod with my camera falls over, one of its legs having collapsed. I am angry and helpless. Either the camera or the lens get damaged – or both. Do we always have to suffer such losses during our expeditions? Last year it was a digicam, and now this. I keep taking photos, even if there are to be ruined. Finally I go down, having jelly legs.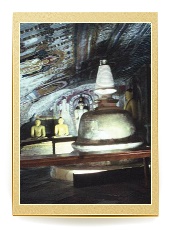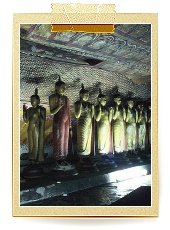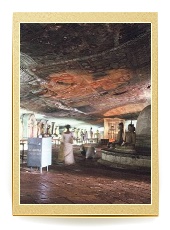 Igor's temperature reaches 39.0°C. I administer doxycycline. Since it is his name day, Igor receives a few text messages, but instead of celebrating, he is lying under a mosquito net, with a compress on his forehead. I don't know what to do. Tomorrow we need to reach Negombo and stay there overnight, and get to the airport early in the morning next day. We shall see what the morning brings.
6 October 2006
Igor: At 8 am my temperature is 38.8°C. Yesterday's treatment – cold compresses, pills, cold shower – all failed. However, physically speaking, I feel better. We go to a doctor again. Maybe some kind of injection? We take our own syringes and needles. The doctor excludes malaria - what a relief. So it must be flu, possibly overlapping with another infection, accompanied by fatigue and muscle soreness. Since I am better today, we go to an Internet Café. This one also has a modem connection. In effect, we only upload a text covering the past 7 days, once again giving up on photos.
At a bus station we are told that unfortunately there is no direct intercity connection with Colombo, and packing all our luggage on a regular bus may be problematic. Hiring a taxi remains the only option.
After breakfast we start packing our belongings. The hotel has its own taxi service and we decide to take it, going straight to Negombo (which is cheaper, calmer and closer to the airport). We set the price at LKR 5000. We set off at noon, passing coconut plantations on our way. We can watch the life of this region from taxi windows. Street life invariably follows its own rules: we notice a driver and five kids in some truck cab, a tuk-tuk carrying a motorbike or a bundle of pipes sticking a few meters up. Farther, cars are cutting in on one another. Children are given a ride to school on a bicycle frame; a motorcycle can serve as a means of transport for both parents and two children. Another unique scene: a 1.5 metre long monitor lizard slowly crossing the street!
We reach our destination at 3:30 pm, easily finding accommodation in Guest House Dephani, right at the sea. The price of a neat room with towels, a good mosquito net, balcony with a view of the sea – LKR 1000. Home-grown coconuts are available, so we ask somebody to put two into a fridge. Nothing tastes better than cool coconut juice. We remember buying chilled fruit in Mexico. Here coconuts are even more widespread, but always at ambient temperature. We go to the beach to enjoy the sea. If it hadn't been for my sickness, we would have come here a day before. Now we only have two hours before the sun sets. Every now and then we come across tourists strolling along Negombo beach. Nobody is swimming – the waves are too high. It is the first time in my life that I see mussels pushed to the shore by waves, and instantly "drilling" themselves into wet sand to hide. We only take a short walk, because even though I feel better, the thermometer still shows a 38°C fever.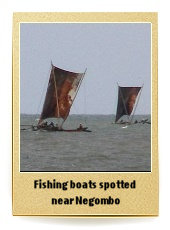 We take a rest spreading on deckchairs, sipping pineapple juice. We will miss those delicacies, fresh fruit and shrimps costing as little as LKR 300, or PLN 9 per serving;-) This is exactly what we order for dinner.
Lucyna is trying to pack our bags, remembering to put plane tickets and passports in the same place. We check our tickets once again, and suddenly it turns out that our flight is scheduled for the day after tomorrow – not tomorrow! How is it possible? We were planning the trip for three weeks and never noticed our faulty calculations? We would surely be surprised at the airport, not to mention the cost of hiring a taxi and pointlessly running around with all the luggage. Lucyna is overwhelmed with joy. We have just talked about how we need 2 or 3 days at the beach. And here it is: surprise! Simply an oversight, but still a surprise! And maybe I will stand a chance of getting better before departure. W swallow some more pills. My temperature is 38.5°C again. Lucyna tells me to take a cold shower and jump straight into bed. She also keeps putting cold compresses on my forehead. Quite anxious, we wait to see what it will be like in the morning. At night my temperature finally falls to 37.1°C. We struggle with mosquitoes - how can those monsters get under the mosquito net? We roll it tightly around the mattress, and sleep soundly until the morning.
7 October 2006
Next day welcomes us with cloudy sky and drizzle. It doesn't matter – the weather is changing every hour here at this time of the year. We have traditional toasts with jam for breakfast, but there is cheese as well! We additionally order tomatoes with onions, and happily purr like cats. The menu reads that the place also serves yoghurt with honey and various fruit, so we already know what to have for lunch:-) After breakfast I must take a rest, as my temperature is rising. After an hour I am back on my feet. We go to the beach and then to the city centre. At Levis Place there are numerous hotels and nice houses with gardens. We pass a beautiful, large church (Negombo prides itself on the highest number of churches in Sri Lanka) and a few roadside shrines. There is a Hindu temple and a Buddhist shrine too. We capture some movies and take photos of street life, including a bike repair shop and a tailor working at his workshop right next to the road.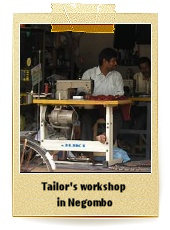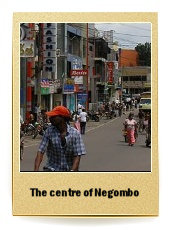 After dinner we confirm the booking on a taxi ride to the airport, and ask for the bill. This is the first time we are charged in such a fair way – the customary 10% service charge is only added to meals, not to the total price.
We must finish packing. Lucyna does a great job, reducing the volume of our luggage to one bag and two sacks. Of course there are also two backpacks as carry-on luggage, and the bicycles with a trailer.
8 October 2006
At 8 am we are already in a taxi. At the airport we have a short argument – they tell us to pay for the bicycles. We explain that they are packed in bags, and are to be handled as regular luggage. We also make sure that we don't have to pay additional taxes on departure. We are looking for some lounge. There are three, but none is supporting Miles&More programme passengers. In this case, we seat by the best-looking snack-bar and have a solid breakfast for LKR 700. Prices at the airport are of course higher, but nevertheless we are pleasantly surprised. Even though everything costs twice as much as in normal stores, it is nothing compared to 10 times higher prices that we came across at other airports or in "tourist stores".
On the plane we get seats by the window – great! We fly over India, Saudi Arabia, Turkey. Beautiful views! We begin to think of our next expedition, probably to South America, because Lucyna is definitely fed up with Asia! Well, unless we travel without bikes. Anyway, if we bear our health-related experiences in mind, we should rather go to a sanatorium ;-) After a 10 hour flight, we land in Frankfurt. Then a short flight to Berlin, where we are picked up by our friend and driven to Poznan.