30 September 2006
Nuwara Eliya is the highest town on the island – situated ca. 1800 m above mean sea level. It was "discovered" by the English in 1819. Then, they started developing agriculture here. Interestingly, they started with coffee only to change to tea by the end of the 19th century. Nearby mountainsides are covered with tea bushes. Terrace fields are a common sight, being planted with carrots, potatoes, tomatoes, beans and leeks.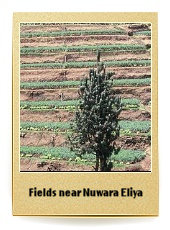 The majority of the local population are Tamils, "imported" from India by the English to cultivate tea. That is why mosques and Hindu temples are commonly seen here.
Although in the morning Lucyna feels fine, we opt for another no-cycling day. We use a cash machine in the town centre. I also visit the barber (LKR 150) who, as a part of the service, gives me a head massage using some herbal mixture.
Lucyna goes on a shopping spree at a fabric store, which is understandable - beautiful silks are really cheap (PLN 70 for six metres of silk!).
We take a taxi (LKR 1000) and make a few hour excursion, visiting Hagkala Botanical Gardens and Pedro Tea Factory. The Gardens were established in 1861 and contain an incredible amount of trees and flowers. Many of them are exotic to the locals but we know them pretty well from Poland – roses, geraniums, zinnias, asters and snapdragons. We are amazed by the nearby hills, what a great view! As usual, we are the main attraction – a local boy asks for a photo with us.
The visit at Pedro Tea Factory is a short one. We have to wear protective gowns and head caps. We watch the process of transporting, drying and sorting of tea leaves. The subsequent production stages – rolling and fermentation, take place at night. We take pictures but we are not allowed to record videos. Unfortunately, no description can convey the scents that accompany us during the half an hour tour.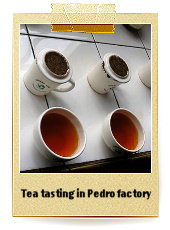 The whole production process lasts 24 hours, successive stages taking place at regular intervals. Naturally, we participate in a tea tasting session. The brew has got a beautiful orange colour and exquisite aroma – the result of delicate processing and favourable location (high grown tea from plantations located at least 1200 m above sea level, in this case from Nuwara Eliya region). We purchase two kinds of tea – Orange Pekoe (Black tea made of whole, large leaves) and green tea at the factory shop. We learn that tea pickers work for 8 hours a day, 6 days a week, making LKR 200 (USD 2) daily. However, they also get working clothes, food and accommodation. When we are shaking our heads in disbelief, the guide tells us that she makes only LKR 65 a day!
We are back in town, spending the whole afternoon searching for people interested in climbing Adam's Peak. Unfortunately, it seems that out of the pilgrimage season, it is hard to find fellow adventurers.
Lucyna still has not fully recovered – luckily it is only a slight fever. In this case, I decide to climb 4800 stone steps leading to Adam's Peak on my own. Unfortunately, I need to cover the cost of the excursion (LKR 3800) by myself as well. The taxi will wait in front of the hotel at 11 pm.
1 October 2006
At 1 am we are already in Dalhousie. I take an hour's nap in the car. We set off at 2 am (from an altitude of 1300 metres above mean sea level). The total darkness is only lit up by my LED headlamp and starry sky. I hope to see a nice sunrise from the mountain top. There is not even a single soul in sight, the only sound being a brook babbling nearby. At the beginning, the trail is wide and well marked. After a dozen minutes, I am joined by two Dutchmen and two dogs, which in exchange for a few cookies, will keep us company for the rest of the hike. It is good because certainly they will alert us to a snake on the path (there are 6 species of deadly venomous snakes on the island). The Dutch are not well prepared for climbing because their flashlights go out at one point. I lend them my backup headlamp. The trail now turns and bypasses a section under repair. Without our headlamps, walking on slippery rocks would be hard. A moment later, we start climbing steep stairs (about 1500 of them) provided with a handrail towards their end. We have been walking in a cloud for an hour, therefore the visibility falls dramatically. Facing cold, gusty wind, we reach the top at 4:30 am. It takes us an hour and a half less than the guidebook average. At first, we do not realize that we have already reached the peak (2225 m above mean sea level). Having climbed another series of steps, we decide to take a breather and shelter from the wind at a nearby building, which turns out to be the quarters of temple guards. Upon hearing our voices, they invite us inside. It is pleasantly warm here. We get hot tea and the dogs get some cookies. Great! A moment later three stewardesses from Air Italia (a German, an Italian and an Argentinean) also reach the top. We are waiting for the dawn, talking on various topics. Unfortunately, the morning is cloudy. It is 6 am and the plan of admiring the views (including the allegedly incredible view of the peak's shadow) falls flat. And that was the sole purpose of the excursion! It seems that the best time to visit the place is during the pilgrimage season (December – May). In that period, the whole trail is lit up, there are also stalls with food and drink. However, the drawback is the number of pilgrims (a few thousand) climbing the mountain at that time.
At 6:30 am the guard opens the temple. Naturally, we enter it barefoot. Because it is wet, our feet experience brief thermal shock. The temple totally disappoints me – a small building with the alleged footprint of Buddha covered by a black metal slab. It is probably uncovered during puja, but we do not know what time it starts. We wait half an hour, hoping for the clouds to clear, but to no avail. The whole gang of us goes down, this time accompanied by three dogs.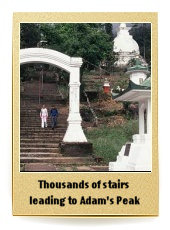 On the way back, already below the layer of clouds, we admire the panorama of local mountains with a few waterfalls. Going down takes us two hours and a half. Towards the end, I have jelly legs and walk like a robot. I go back to Nuwara Eliya by taxi. I am very tired and drowsy but it is hard to fall asleep during the taxi ride. I reach Nuwara Eliya after 11:30 am. Lucyna has already eaten breakfast and is packed up. We put our luggage on the bikes, tip the bell boys and set off. We leave a bit late, but today's section is mainly a downhill road and only 70 km long. Unfortunately, the exit road from Nuwara Eliya is uphill and pretty steep, but we can handle it, especially knowing that sooner or later we will start cycling downhill. Suddenly, the road ends. Ok just relax - road works can happen anywhere. A moment later, there is a beautiful asphalt road going downhill. We feel euphoric! I am only worrying who will make the sacrifice and interrupt the downhill ride in order to take pictures of the upcoming spectacular views. The problem solves itself – after 2 km the asphalt ends. The 25 kilometre grind begins. The section to Ramboda is terrible – very steep, with sand, clay, pebbles, excavators, trucks, etc. A street cleaning truck passes by once in a while, spraying water on the road. It does not help, turning red dust on our luggage into red mud. Frankly speaking, greetings from Sri Lankan road work crews were not warmly received by us. Sometimes it is good when people do not understand Polish;-)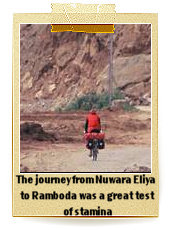 Road works do not discourage drivers from their infamous, reckless overtaking. We ride with our hands constantly on the brakes. Cycling uphill with luggage, or driving a car at night would be impossible here! We pass some waterfalls but do not feel like taking photos. Instead, we would really like to eat something. For the first time in Sri Lanka we are eating such horrible rice with extras – the food in some Ramboda bar literally stinks.
A Japanese supervising works in a nearby tunnel takes a picture of us. He starts laughing when I yell "one dollar please". Well, we will probably be the attraction for the rest of our stay here. Finally we reach a marvellous downhill road leading from Ramboda all the way to Gampola. The asphalt surface is as flat as a table. After a tough day of cycling, we begin to feel tired.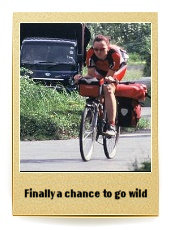 The ride is anything but uneventful – I get a flat tyre. There is a record breaking 7 cm nail in it.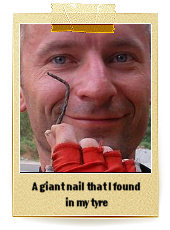 I replace the inner tube which takes me half an hour. It is worth emphasizing that each time we stop by the roadside, people pull up asking if we need some help and this time is no different.
Luckily, the road to Kanda is wide and leads downhill almost all the time. At 6 pm it gets completely dark so we put on headlamps. Suddenly, we witness a scene from Hitchcock's "Birds". Every evening, thousands of huge bats which inhabit nearby Peradeniya Botanical Gardens, leave their shelter in search of fruits for an evening meal.
Looking for cheap accommodation, we follow the instructions from the guidebook and head for Clocktower, taking the right turn off to Saranankara Road, where several budget hotels are situated. Approached by someone speaking English, we recognize the Dutchman whom we previously met in Ella. He says that he is staying at Kandy Inn. We, however, spend the night in Golden View which is located a bit lower – we do not feel like climbing and besides, we are tempted by the opportunity of having ayurvedic massage. We reach the guesthouse at 7:30 pm. The bikes and luggage are completely muddy. Maybe somewhere else the staff would let us take them to the room, but not here:-) The room is spacious, with a balcony and a drying rack. The price (LKR 1000) is decent as well. We are too tired to care about haggling. Unfortunately, there is nothing to drink in the fridge except water. I get angry because I am craving for a beer (by the way, local beer is very good). I really do not know what got into me – I want to shake the tuk-tuk driver who does not want to ride half a kilometre for LKR 60. We eat supper at KFC and go to the next-door convenience store. Unfortunately, they do not have beer, bread or cold drinks. Instead, there is a horrible smell near the fish stall. Epic fail... Additionally, I am tormented by my sore legs and for the rest of the day I am in a really grumpy mood, labelled by Lucyna as "armed and dangerous".