24 September 2006
It is hard to get up today. It has been raining all morning so it is very damp. We leave at midday. Kilometres pass by slowly and our bodies demand more frequent rests. Unfortunately, Lucyna's shoulder is becoming more and more numb. Before our expedition I received treatment for my wrist, but it has been doing just fine so far.
Heading eastwards, one can tell that few tourists venture here. It is hard to find people speaking English, or a decent restaurant and accommodation. By "decent", I mean a place which does not repel with smelly hot air, filth and general seediness. On the way, we eat various fruits. Most of them are delicious but some disappoint - apples are sour and watermelons are tasteless. After 45 km, we reach Hambantota. Finding accommodation is not as easy as we thought. Finally, we take a tuk-tuk and explore all the best guesthouses in the town. The first one, Rest Inn, is fully booked, the next one, Beach Rest House, is definitely too expensive – LKR 2500 for a room. In my opinion, it should not cost more than LKR 1500, but the price is not negotiable. Finally, we head towards Joy Inn and stay there (LKR 700 for a rather shabby room). Unfortunately, we do not have a choice because the hotel at which we planned to stay, Peacock, was destroyed by tsunami. There is still Oasis Hotel, but it is 7 km away so we would have to cycle back. It does not suit us because tomorrow is a no-cycling day as we are going on safari at Bundala National Park. We want to eat supper, but it turns out that there is no restaurant at hand, only bistros serving rice and curry. Hunger forces us to enter such a place, but it is not that easy. The interior is totally filthy. Under the tables, there are wastebaskets for newspapers which serve here as napkins. Only us – honkies – get plates wrapped up in tin foil – for extra sanitation! The locals get newspapers instead of plates. Of course, we do not drink tap water served with all meals as we want to avoid stomach upsets. Needless to say, we are a considerable draw because all the surrounding tables fill up quickly. Obviously, the main attraction is Lucyna. It seems that women are a rare sight here, especially at this time of day;-)
Later, we do some shopping in a small, European-standard supermarket. These are rare in Sri Lanka, but can be found in some cities. We purchase a very important item – lemongrass oil against mosquitoes, because Autan does not work. We go back to the room. Lucyna wants to wash our clothes. Walking into the bathroom she spots a 5 cm cockroach on the door frame.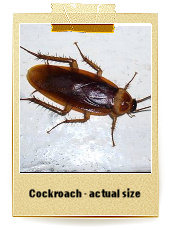 It gets by without screaming this time, but once the door is opened wider, it turns out that there are more of them. They came from the drain hole and are running on the floor and toilet. Lucyna loses it. Her innate disgust for insects makes her cry. I am trying to control the situation, comforting Lucyna and killing cockroaches. After a good while, Lucyna starts washing the clothes. I admire her for overcoming her weaknesses. The night is stuffy and noisy because of the nearby street. The spectre of cockroaches and musty smell kept Lucyna awake for a long time.
25 September 2006
In the morning, we can barely open our eyes. For some vague reasons, the host will not make us breakfast. We take a tuk-tuk to the remains of Peacock Hotel, where we are to find a person organising excursions to Bundala National Park. Indeed, we find the man, but farther away. The trip costs LKR 3000, including a jeep with a personal driver guide.
On the way, we stop for breakfast – funny rice cakes with peas and curry. We eat our fill of these. We sample various sweets, for instance fried rice cakes (with curry of course), which have a very interesting taste. A moment later, we enter the park. The fee is LKR 800 per person, but we pay LKR 2800 in total, jeep fee and VAT included. We are joined by a park guard. It is worth mentioning that the 3700 hectare park is a shelter to many animal species, primarily birds. Numerous migratory birds stop here every year. The safari lasts more than two hours and is incredible. We have an opportunity to see plenty of bird species. We will have a lasting memory of a peacock sitting on a tree in its natural habitat. There are also kingfishers, honey buzzards, ibises, herons, cormorants, pelicans, flamingos and many other birds. We also spot monkeys, crocodiles, iguanas and a monitor lizard. We are not fortunate enough to come across elephants, although signs of their presence are visible everywhere.
On our way back, the guide asks if we have tried local yoghurt. He recommends it with honey as an evening dessert. It is stored in clay bowls at roadside stalls that we have been passing for a dozen kilometres. It did not cross our minds that yoghurt can be stored all day in temperature of more than 40°C! The whole bowl with a drop of honey costs LKR 100. A moment later, we dine at the Double N restaurant, which we could not find yesterday. After dinner, we go to an Internet cafe for a quick chat with guys from Cyklotur. In the guesthouse, we drink two pots of delicious tea and eat the above-mentioned yoghurt with honey. It is delicious and, as it later turns out, free of "side effects". We are accompanied by inseparable cicadas and geckos, hunting for these insects in the vicinity of lamps. The only thing to do now is to pack up and leave tomorrow as early as possible.
26 September 2006
We wake up at 6:30 am. For breakfast we have toast with jam and butter, as usual. This time we skip eggs as for the time being we have had enough of them.
Just outside Hambantota, we stop at the biggest salt factory on the island. The salt is extracted from evaporated sea water and piled in 50 metre long and 2 metre high mounds. Some of them are covered with palm leaves which serve as rain protection.
In the morning, the sun is shining gently so the ride is comfortable. Unfortunately, at noon the sun is scorching. Again, the temperature exceeds 40°C. We are lucky that the air is dry and the blowing wind helps us to survive the heat. However, roadside stalls offering cold drinks are very rare here. The landscape is changing. Palm trees have almost disappeared, being replaced by typical savannah vegetation. The soil here has got a distinct orange colour. People's reactions to us are even more spontaneous – cycle tourists seem to be a rare sight here. Locals offer us free mangoes. However, probably to balance things out, some women break into peals of laughter when they notice our cycling shorts.
After 90 km, we reach Wellawaya. Today's section was not easy – it was one gentle but continuous uphill climb. On the last kilometre before Wellawaya, we can already see the mountain area which we will enter tomorrow. We spend the night in a nicely situated Saranga Holiday Inn guesthouse. An air-conditioned room costs LKR 750. It is rather seedy, its air-conditioning system being noisy and ineffective. I use earplugs as I cannot fall asleep.
27 September 2006
In the morning, we leave luggage in the room and go for a 5 kilometre tuk-tuk ride (a round trip costs LKR 300) to Buduruwagala (the entrance fee is LKR 100). This place is located in the middle of the jungle and is worth visiting because of its seven pretty interesting rock-cut statues which date back to the 10th century. The tallest Buddha statue is 16 metre high and still bears traces of original orange stucco (plaster-like coating).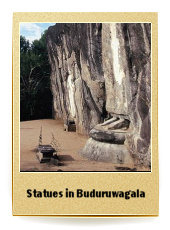 On the way back, we stop by a small artificial lake near Buduruwagala. We want to enjoy the sight of flocking birds (peacocks, herons and especially beautiful kingfishers).
Back in Wellawaya, we have breakfast at some sort of bar for locals. Tasty bread rolls with spicy vegetable curry filling and a cup of tea help us regain energy.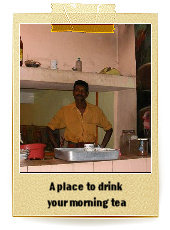 Later on, we exchange dollars at a local bank. The whole transaction drags on for over half an hour. Each note is examined several times and its serial number is written down. They reject one banknote because of a pen mark. We leave at 11 am. The first 4 km are flat, but then a 26 kilometre uphill climb to Ella begins. We did not expect it and because we thought that Ella would be situated in a valley, we were anticipating a downhill run round every bend. Riding uphill is tough – we cycle more than a half of the route using the lowest gear. Lucyna is complaining that I did not prepare her for today's uphill struggle.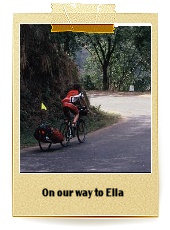 Somewhere down the road, we drink coconut juice bought at a roadside stall. On the same bench, sitting half a metre away, there is a 30 centimetre lizard curiously looking at us.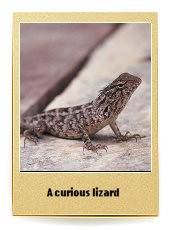 As we are in the mountains, the traffic is dwindling. On several occasions we encounter macaques playing in the trees, but they completely ignore our presence – unlike kids, for whom we are a huge attraction.
6 km before Ella, there is a 90 meter high Rawana Ella waterfall. Some local guy comes to us with a handful of minerals. He says that this is a gift for us but he would like some Polish coins in return, as he is a collector. As a matter of fact, we are asked about Polish coins by a number of other locals later the same day. Upon learning that we do not have euros, these "collectors" lose their interest;-)
About 5 pm we reach Ella, a beautiful village located at the pass (1041 m above mean sea level), spending the night at Rock View Inn Hotel. The room in the new wing is just great (LKR 800). Everything is fresh and clean. On top of that, we have a nice view from the balcony. The staff are charming and give us royal treatment. We dine in the hotel restaurant, then use the Internet access point in the village centre (unfortunately with a slow modem connection) and go to bed. We wake up in the middle of the night, probably because we are no longer accustomed to peace and quiet or fresh bed linen. Daily statistics: we covered a distance of 30 km, averaging 9 km/h.
28 September 2006
We wake up at 6:30 am and eat breakfast on the balcony with a view of the mountains. Squirrels are running up a breadfruit tree next to us.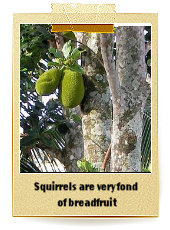 We set off. First we cycle downhill for a while, then there is an uphill climb to Bandarawela. The town is busy and crowded. We cycle 22 km to Wellamada, partly riding downhill. Having decided to continue cycling towards Nuwara Eliya, we are continuously cycling uphill, so each hour is more challenging than the previous one. The road is now narrow and tortuous, but it does not stop cars from overtaking each other. Because of that, we are forced to pull over twice.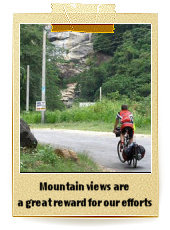 Towards evening it is getting cold and the wind starts blowing. We put on sweatshirts. Lucyna is getting weaker and weaker every minute. About 6 km before Nuwara Eliya, I find an unusual Humbugs Resort guesthouse, perched on the mountainside at 1700 metres above sea level. It is about time because Lucy has got tears in her eyes at the thought of any further ride. A great room with a big window and a view of the mountains costs LKR 1500. The price is not negotiable. We have the whole guesthouse for ourselves. Interestingly, the guesthouse owner has got a strawberry field, so we have strawberry ice-cream for dessert. Daily statistics: 55 km covered.
29 September 2006
In the morning, Lucyna is obviously in crisis. She is so fatigued that she cannot eat anything, even delicious eggs and bacon. She has got all the symptoms of exhaustion, accompanied by mild sunburn (yesterday morning we did not put sunscreen on our arms and legs). She is so weak that she breaks into tears. Cycling to Nuwara Eliya is out of the question. The guesthouse owner arranges a delivery van which transports us to the said Nuwara Eliya – the highest town in Sri Lanka. There is plenty of accommodation here. I check three places and eventually choose Keena guesthouse. A clean room for LKR 1000.
Lucyna has got a fever of 38°C so I give her proper medication. In the evening, the fever subsides and she regains her energy, so we walk a few hundred metres to an Internet cafe (LKR 6 per minute).