2 October 2006
In the morning, there is no improvement – I cannot walk. I do not recall having such sore muscles ever before. Climbing a dozen steps is a struggle with pain. We intended to see elephants in Pinnawala, visit Kandy and set off the next morning, but because of my legs, we must change our plans. At breakfast, we are buttonholed by a staff member asking if we are going to attend a Sri Lankan dance show in the evening.
I tell him that we would like to, but we are now going to Pinnawala by bus and do not know if we will be able to come back on time. He offers us a taxi, which for LKR 2500 will take us to the Elephant Orphanage, then back to the centre, and to the show venue. We have toasts with jam for breakfast – still being fed up with eggs. Then, I am the first one to go for a massage. In the meantime, Lucyna is doing the laundry – including our sacks and panniers. An hour massage makes me feel totally relaxed. The whole body, including the groin area, feet, toes, fingers, ears and head, is being massaged and kneaded with various oils. Being all oiled up, I spend 15 minutes lying on the bed before I take a bath.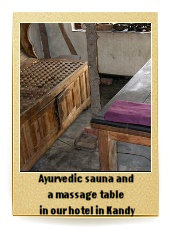 While Lucy is being massaged, I clean up the trailer. My wife returns and is delighted with the treatment, feeling as relaxed as I did. After a few minutes, she takes a bath as well. Having packed our photo equipment, we go down to the hotel souvenir shop. A bronze Buddha statue takes my fancy. It is a really beautiful handicraft – I wanted to purchase a similar one some time ago. Well, it is too expensive for me. The hotel owner tells me that this statue was made by an artist friend of his, thus he can ask about a potential bargain and let me know in the evening. I reply that I still do not know whether to buy it or not.
The taxi arrives. A moment later, we are stuck in a huge traffic jam. Luckily, we make it for the feeding time. A chance to touch elephants and spend a dozen minutes watching them and being so close to them is an amazing experience. Baby elephants drinking milk from their mothers, teenage elephants walking on their own and mature elephants trumpeting at visitors, it is all incredible! We do not know what to film and what to photograph – it is crazy in here!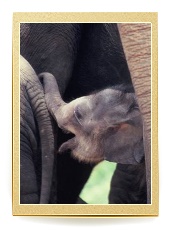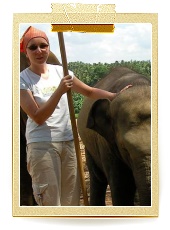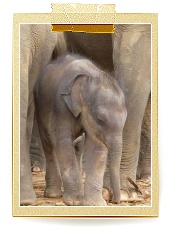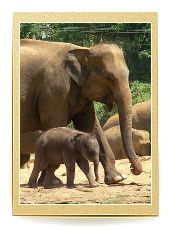 Then we hear an elephant mahout, ordering tourists to step aside, as elephants will be driven towards the river for a bath.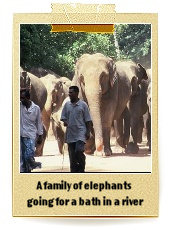 In a shop next to the orphanage we buy some souvenirs made of so-called "elephant paper". It is made of processed elephant dung – boiled and shredded. What's interesting, this paper does not contain colorants, revealing much information about an elephant's diet.
Afterwards, standing at the terrace of a nearby restaurant, we are watching the ritual of elephant bathing. At least no tourist has a chance to get in front of my lens, spoiling the photo. Admission to the elephant orphanage cost LKR 500 per person, and covered elephant bathing show.
On our way back, we buy delicious red bananas (LKR 10/pc). Pineapple is a must too :-) This was the first time I saw grapefruits the size of my head! A few kilometres outside of Kandy we visit the so-called spice garden. Admission is free. A quite irritating guide shows us around, explaining what products are made of specific plants, and what ailments they help cure. He even rubs some kind of oil into my aching legs. The whole trip ends in a local shop, where prices are obviously exorbitant, namely 5-10 times higher than in a regular ayurveda store. The owner is disappointed, because we don't buy anything. Back in Kandy, we still have enough time to shop in places recommended by our driver. Thus we purchase massage oils, spices and incense sticks for some petty cash. I am just wondering who will carry all those things around!
The taxi driver leaves us in front of a building where the dance show takes place. Inside it, there are mostly tourists. We are handed a programme of events. It is difficult to record movies or take photos, as the stage is rather dimly lit, while the dancing men and women move very fast. Drum rhythms gradually put us into a trance. Singing, acrobatic leaps, impressively rich outfits, and finally fire-eaters, who walk on hot coals to boost the overall effect. All that costs us just LKR 300.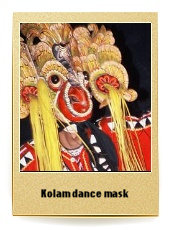 After the one-hour show we go back to our hotel, no longer feeling like sightseeing. My legs keep giving me a hard time, and Lucyna has been fighting a headache all day long. Before having dinner in the evening, we rummage in a nearby shop, eventually buying red Indian earrings to match Lucyna's sari. The moment I grab my wallet, the shopkeeper places a statuette of Buddha next to the items we picked. He is tempting me cleverly! A moment of haggling, and the price is reduced by a half. Well… I can even pay in dollars. It's a deal. We still have a USD 100 banknote which they wouldn't exchange in the bank. I am looking at the statuette – a genuine piece of art. Lucyna tells me to take it. I admit – wherever we looked for some bargains, we only saw tourist-oriented junk. OK – I take it. After all, I will not oppose my wife :-)
Two other incredible experiences await us later the same day: one of them is of a culinary nature – the shrimps we order for dinner turn out to be the best meal we have had in Sri Lanka. Afterwards I take a steam bath, lying my aching body down in a simple wooden box (similar to a sunbed). Bowls with herbs and oils are placed underneath on a special heater, and for another hour my skin can absorb fragrant vapours. What a great end of the day!
3 October 2006
Unfortunately, I am still unable to move my legs. Muscle soreness has not subsided, even though I rubbed Siddharta oil into my legs. Once again, we have to adjust our itinerary: we postpone our departure by one more day, intending to supplement missing posts in our travel journal, do a bicycle check-up and visit the Temple of the Tooth. A hotel employee shows us around a nearby batik fabric factory, where we can follow the entire production process. What a laborious manual task. Each dyeing stage is preceded by manual wax application onto places that are intended to remain undyed. Then a short visit to an in-house shop, where the prices (for tourists) are 10 times higher than in any local shop. Afterwards we go to yet another silk factory, obviously with a shop on site. The rate of LKR 9000 for 6m of natural silk is negotiable, the final price probably being closer to LKR 6000, but do we really need another sari?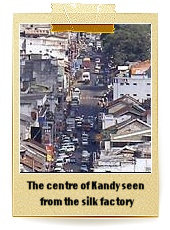 Accompanied by our hotel guide, we take a tuk-tuk and go shopping in the city centre. Trying to avoid transporting kilos of tea, we are looking for around a dozen of 50g tea packs for our friends. Unfortunately, tea is only available in small teabags, 200g packs, or even better – wrapped in old newspapers and rubber band. This is what we should have bought! But at that moment we wanted neat packages.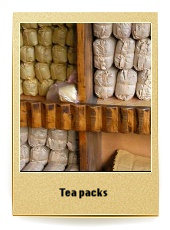 We find a shop with good teas and ask if they have any fancy bags to pack tea into. Of course they do, but only one-kilo bags. I try to explain that we intend to buy more than one kilo, but in several 100g packs. The shop attendant offers some nice-looking bags. They are intended for Turkish tea, but we don't care :-) Eventually we take 15 packs, 100 g each. The gentleman says that those bags are designed for 200g. After some negotiations he agrees to put 150g in each bag. Thus we purchase 2250g of tea! I guess as punishment Lucyna will be the one to transport that load ;-)
We pull over at some place to have a cake. Lucky us – we are also served ice tea! It is delicious, especially that we have found ourselves in hot climate again, after coming back from Nuwara Eliya. Local coffee tastes excellent too, because it is well brewed – a rarity on the island. And the price is amazing: we pay LKR 125 (just over 1 US dollar) for three coffees and three cakes!
We also need Sri Lankan cigarettes as a souvenir for my father-in-law and brothers-in-law. Luckily, a guy from the hotel accompanies us and arranges everything – we give a waiter some cash, and he knows where to go to buy the best Sri Lankan cigarettes. No wonder we have seen so few smokers thus far. Cigarettes are very expensive – more expensive than in Poland.
We stop by our hotel to leave the goods – it would be difficult to admire temples while carrying two heavy shopping bags.
Having left the souvenirs in our hotel, we take a tuk-tuk to the Temple of the Tooth. No shoes are allowed in that area. It is not easy walking on such hot surfaces. We can see locals cool their feet in "pools" with running water. The temple itself can be reached by a park alley. Before entering, we pass a thorough security check, introduced after the 1998 bomb blast caused by the Tamil Tigers right in front of the gate. The gate is now reconstructed, while the remains of precious reliefs are displayed in a museum. The interior of the Temple is richly ornamented with paintings, carvings and gold-plated decorations. After an hour's tour we decide to come back to the Temple in the evening, to attend the puja service.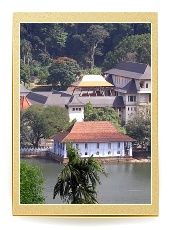 Back in our room, we prepare ourselves for departure. We have gone wild with the souvenirs, now facing a few more kilos of luggage ;-) However, Lucyna is an expert at packing things, so I begin to wash our bikes, also making sure everything is in order. Lucyna's bike has a flat back tyre. There is a tiny hole in the tube. It turns out that the glue supplied with patches is worthless. Luckily, "Super Glue" works like a charm.
At 6 pm, we are back in the Temple of the Tooth. Drums have been playing for a few minutes now. I buy a flower as an offering. Inside the temple there are many worshippers, but also a number of tourists. I don't even want to think what this place looks like during high season! As puja proceeds, doors to the shrine open, and the holiest relic can be seen – Buddha's tooth – or actually a splendid golden container. What a breathtaking moment.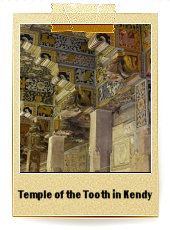 After visiting several smaller shrines, we go to dinner. Pizza Hut is our final choice, being a tidy and orderly place. A meal for two - pizza, two soft drinks, garlic bread, ice cream and orange juice – cost only LKR 600!