15 -17 September 2006
As usual, we pack at the last minute. How come you plan a trip a few months in advance and still need to buy something a day before departure?
After a check-in at the airport, we fly to Warsaw from where we have a plane to Frankfurt. Having waited for a few hours at the German airport, we head for an almost ten-hour flight to Colombo. We have bad luck – one of the bikes has not arrived. We complete formalities at the left luggage office and take a taxi to Sansu Hotel, situated near the city centre. A taxi is hired through an airport-affiliated agency, so there is no risk of fraudulent cabbies. It costs LKR 1800 or USD 18 (LKR 100 = PLN 3), which is a good price considering a one-hour ride in a clean, air-conditioned minivan. (By the way, it would have been better for us to find accommodation in the nearby Negombo instead of going to Colombo, but back then we did not know about it).
On the way, we are watching the local left-hand traffic. Lucyna is looking through a side window in horror, pressing her hand to her heart. It becomes certain that cycling here will be pretty challenging! We stay in a nice, air-conditioned room with a bathroom for USD 20 (including breakfast and Internet access). We are tired after the journey, so having eaten a tasty meal in the hotel roof top restaurant, we take a nap. In the evening, I call the left luggage office. The only information I receive is that I should keep waiting. In this case, we stay another night in Colombo.
18 September 2006
To our dismay, the bike still has not arrived! In such circumstances, we take a hotel taxi to the Kelaniya Vihara – the most important Buddhist temple in Colombo – a place once visited by the Buddha. We are impressed by the Image House, featuring murals depicting the destruction of the temple by the Portuguese, as well as various scenes from the Life of the Buddha and Hindu gods. It is hard to believe that these paintings were created in the 20th century.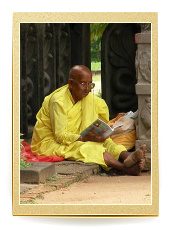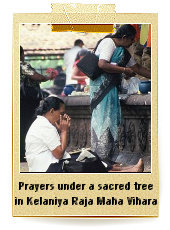 We drive back to the Slave Island area, in the centre of Colombo. The taxi trip costs us LKR 750. We are approached by a local, telling us about a soon-to-be-ended three-day festival at the nearby temple. We take a tuk-tuk (there are thousands of them here), but make a mistake by not setting the price for the ride beforehand. In the temple there is no sign of the festival, but instead there is an elephant statue and a few other interesting things to look at.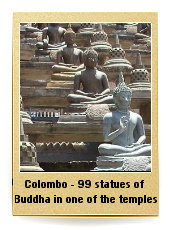 Our local "friend" talks us into visiting a jewellery shop, the reason being that they apparently have a sale on. Lucyna purchases a cut champagne-coloured topaz weighing 20 carats. Next, we head towards a nearby park. The driver wants LKR 4000. The guy went crazy! I give him LKR 2000, which is still at least twice as much as I should have given. Unnecessary experience...
In the park there are many young couples, whispering vows of love in unusual nooks of tree trunks.
We walk back to Slave Island. On the way, we meet another local. He convinces us that we are heading towards a no-entry zone and should rather go to the Pettah Market. I do not know why we listened to him. Maybe he hypnotized us saying that he loves Walesa? Again, we take a tuk-tuk, supposedly a cheap one, but still the fare is LKR 1000. I do not feel like haggling and the driver is probably counting on that. A dumb tourist will pay anything... And our local "friend" has a free ride to his destination.
The Pettah Market is crowded chaos with occasional foul smells, so we leave it rather quickly. This time we use more economical means of transport - our feet.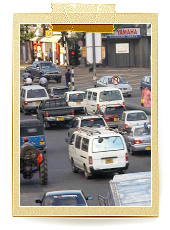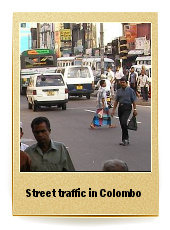 We reach the hotel well after dusk. I call the left luggage office at the Colombo airport. They say they are still looking for my bike and I should be patient. I phone the Poznan Airport. A nice lady advises me to push Colombo clerks to fax the Frankfurt Airport. I do so, thanking Providence for Skype and Internet access at the hotel. Thanks to them, all the phone calls cost us only a few zlotys. We consider different scenarios: buying a bike, leaving a part of bike luggage at the hotel or purchasing a big rucksack and travelling by bus. None of them appeal to us.
19 September 2006
We need to stay another night in our hotel (it is already the third one). However, after a few phone calls to Poznan, Warsaw, Frankfurt and Colombo the lost bike is found!!! Unbelievable how much stress it caused us. The bike was found in Warsaw and will come to us via Singapore! We suspect that the sticker on the bag must have come off. Actually, during yesterday's supper we decided on the rucksack scenario.
20 September 2006
A few observations to begin with: Colombo, although very chaotic and dirty, is a very green city as well. There are trees everywhere. Our plugs are compatible with local sockets and standard voltage is 230V.
There are many cash machines in Colombo, while most big shops and hotels accept all major credit cards (though there can be problems with American Express).
I would like to emphasize that Sri Lankans are genuinely nice people and that fact, combined with delicious food, makes us less nervous.
The story continues
The bike arrives at the hotel as late as 1:30 pm. I quickly assemble it, which takes an hour anyway. One of the wheels is buckled and the largest chain ring is bent. I straighten it with a pair of pliers. It will be ok. Lucyna is very nervous about cycling through the city. Because of that, but also in order to quickly and safely leave Colombo, we take a taxi to get out of the city. After 30 km we get off the taxi, attracting a small – yet quickly increasing – group of locals. For the next 20 km we are getting used to the road and to cycling in this chaotic traffic. We need to stay alert – sometimes a car cuts in on us, or someone is recklessly merging into traffic. Interestingly, accidents and bumps happen very rarely, as we later learned.
We reach Kalutara. At 6 pm it is already getting dark, so we look for accommodation. In fact, we do not even start searching because some Sri Lankan recommends us a secluded, riverside hotel (located 1 km from the main road) – Bandu River Inn. This is indeed a nice place. A room costs LKR 1300. The Sri Lankan does not really want to leave us alone. I get a bit annoyed when he joins us at supper, although I must do him justice – it turns out that he does not want to trick us but simply help. He tells us about local prices, places worth visiting and spending night at. He also gives us words of advice about safety issues. We learn many interesting facts about people, politics, corruption and why Tamils seek autonomy. Daily statistics: we covered a distance of 25km.