22 September 2006
The accommodation at El Dorado is great - a quiet, secluded hotel with excellent service.
We meet a local cyclist during his practice. On such a busy road, it is quite a challenge, but also a concentration training. After 20 km, we reach Galle and visit the famous fort, built by the Dutch a few centuries ago. Inside the fort, there is a small colonial town. Churches, mosques, a clock tower, a lighthouse – they are all connected by several narrow streets. The place has a unique ambience.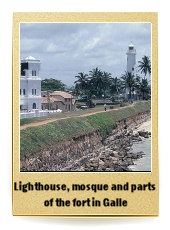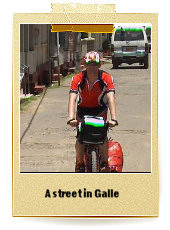 We eat lunch in a small restaurant where Lucyna struggles with spicy prawns, but when a dish is called "devilled", it is hard to expect anything else.
We finish today's ride 5 km outside Galle (26 km in total). This is not an impressive distance, but we badly wanted to spend the night here. I am talking about Unawatuna – the most famous beach in Sri Lanka. The place is marvellously beautiful. We stay at Peacock guesthouse, located right by the beach. An air-conditioned room with breakfast is LKR 2200.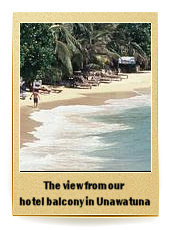 A moment later, we take a tuk-tuk and head towards the Jungle Beach, which is a bit farther from Unawatuna. It turns out that the driver did not understand us, so in order to get to the beach, we struggle through the shrubbery along the rocky path for quite a distance. We have an opportunity to see some beauty spots of Unawatuna, with houses and hotels seemingly lost in the jungle. We ask a local about the way to the beach. Upon learning that we are from Poland, he says "Warsaw" and "two brothers - prime minister and president, world record". We are flabbergasted. A moment later, we admire young men climbing coconut trees without any protection.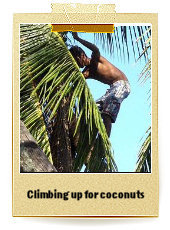 We also have an opportunity to take pictures of wonderful plants.
When we reach the spot, it is already 5 pm, so the sun is slowly sinking below the horizon. I swim to the local reef. The water is not crystal clear and the reef is not breathtaking either. We probably came at the wrong time of the year and day. What a pity. We go back to the hotel taking a different route (LKR 200) and still agonize over paying through the nose back in Colombo. We should not have paid more than LKR 500 for each ride.
In the evening, we enjoy a candlelit dinner on the beach. Waves gently wash our feet. These romantic moments are rare in the everyday bustle of life. The blissful mood is spoilt when we receive our beef steaks. I could kill a 5 cm Colombo cockroach with one of these. However, Lucy tells me not to get irritated. At least two nice doggies have a nosh-up. I will never again order beef in Sri Lanka! And I do not recommend eating at this restaurant because the next dish smelt of rotten meat. They should kill the chef, or at least make him eat his cooking.
Some more observations: one can get delicious tea anywhere in Sri Lanka, but it should be ordered as "plain tea", otherwise it will be served with milk. Such a barbarism (although definitely drinkable)!
23 September 2006
In the morning, we quickly pack up – a tough day is ahead of us. We pass villages, picturesque bays and beautiful beaches. I dare say that a dozen kilometres past Unawatuna they have the most wonderful beach we have ever seen. The first half of the ride passes pretty quickly due to clouds covering the sun, but we still sweat heavily. The extra beads of sweat are the result of eating rice and curry at a roadside bistro. Lucyna thoughtlessly pours chicken gravy over rice and her eyes pop out. I tolerate spicy food better than her but I am still careful with extras.
Along the way, we are greeted hundreds of times by the locals. We cause a sensation everywhere we go, especially Lucyna. Basically, one does not see here women on bikes or motorcycles, unless as passengers. It is puzzling, bearing in mind the popularity of these means of transport. Additionally, we are white, wearing cycling clothes and having fully loaded bikes. My trailer, particularly its fastening system, arouses public interest as well. I try to convince the locals that this Polish invention works well, but they cannot believe that it will not unfasten itself, shaking their heads in disbelief.
In Dickwella village, we take a 3 kilometre turn off for Wewurukannala Vihara, the temple with the tallest (50 m) Buddha statue in Sri Lanka.
I leave Lucyna with bikes and go to look at the temple (the entrance fee is LKR 100). In the meantime, shy but curious locals approach my wife to glance at the bikes and ask her where we are from.
About 7 km before Tangalle, we take a turn off for another tourist attraction, Hoo-manija blowhole, where jets of water are sprayed 15 metres into the air from a cleft in the cliff. The admission fee is LKR 50. We cover the last kilometres of today's 95 km section with difficulty. There are some uphill sections and the road surface gets worse. We reach Tangalle at about 6 pm, spending the night at Gayana guesthouse, located in Medaketiya, a seaside district of Tangalle. We haggle the price down to LKR 100 for a nice and clean room with breakfast. The guesthouse is basically empty, but well-maintained, as if besieged by tourists. As a matter of fact, neighbouring guesthouses are also practically deserted. No one comes here, but the owners still hope that will change. The situation is not a result of tsunami – it has been like this for years.
After supper, we take a tuk-tuk and head towards Rekawa Beach, some 10 kilometres away. This is an unusual place – one of the few where you can watch sea turtles lay their eggs. For many years, the beach has been supervised by TCP, the organization protecting turtles and their nests. Together with a guide and a group of tourists, we wait for female turtles, sitting in complete darkness, only lit up by the millions of Milky Way stars. The last time I saw such a sky was in Madagascar. We are not allowed to use torches, not to mention flashes. They might scare a turtle that will never return here again. The guide is quietly telling a story: five out of the world's seven species of marine turtles lay eggs on this beach. The most common one is the Green Turtle. The two kilometre long beach is supervised around the clock by a few people. The locals from the nearby fishing village get paid by the TCP for not destroying the nests (turtle eggs are regarded as an aphrodisiac), and not hunting the animals (either for meat or shells). The protection of nests is very important because of poachers (the so-called "turtle farms" buy nest eggs, paying twice as much as fisherman's average monthly earnings), and stray dogs which can dig up the nest. It is also crucial to supervise tourists who may frighten the turtles away with lights or noise. This is important, because a female turtle lays eggs only on the same beach where it hatched. In order to do it, it comes back after 40 years and lays the eggs 3-4 times at two-week intervals. It will be back again in five years' time. In the past, turtles used to nest on all the beaches of South Sri Lanka. Nowadays, they are frightened away by busy seaside resorts.
It is already 11:30 pm and no sign of turtles, although they usually appear between 8 and 10 pm. We are about to leave when suddenly we notice a flashlight in the distance. It is a sign that a guard found a female turtle. We walk along the beach for a while. The turtle left its distinctive tracks on the sand. It is just finishing digging the nest so we still have to wait. When a turtle starts laying eggs, it falls into some sort of trance and does not respond to any stimuli. This is when we can look at it in the torch light. It is a beautiful Green Turtle female, over 115 cm long. It is unbelievable how deep and narrow hole it managed to dig with its flippers. First, it digs a 50 cm deep hole into which it crawls. Then, it digs another hole for 100 eggs, its diameter and depth being 20 cm. Each egg is a bit bigger than a ping-pong ball. It is an amazing feat for an animal which is so clumsy on land. We admire this magic moment which has been transpiring here every night, for millions of years. In the meantime, TCP guards measure the turtle and its eggs.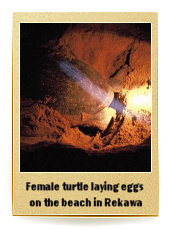 While the turtle is busy burying the nest, we leave the site. It is well past midnight. On the way back, we come across two more female turtles. One of them has already started digging the nest and the other just swam ashore – utter bliss! We return to the tuk-tuk which is patiently waiting for us. We just pay the fee to TCP (LKR 600 per person) and go back to the hotel. The tuk-tuk fare for the whole excursion is LKR 900.