We set up our tent in a tiny park. Next day we left all our belongings there and nothing got stolen. Japan is a very safe country. Thefts are very rare – the Japanese have much respect for other people's property.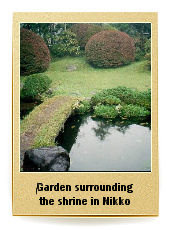 [Garden surrounding the shrine in Nikko] We spend a whole day sightseeing in Nikko. First we went to Tosho-gu shrine complex, built in the 7th century as a mausoleum of Shogun Ieyasu. There is a Japanese proverb saying: "Never use the word 'kekko' (amazing) until you have seen Nikko". Amazing? Beyond any doubt – this place combined all elements that make a picturesque landscape: rocks, valleys, cascades, hot springs, lakes, hills and the eternal silence of the forest.
Local hillsides are adorned with dozens of buildings, shining with gold and bright colours, richly ornamented with reliefs. Nonetheless, we were not that enchanted. All that glamour of form and colour brought to my mind the "oversweetened" European rococo.
When we were in Tosho-gu it was raining, which allowed us to admire the unique ambience of the place, the volatile atmosphere that perished as soon as the first rays of sun hit the golden surfaces. It was once calculated that the thin golden plates used for ornamenting the Nikko shrines would be enough to cover a two hectare field!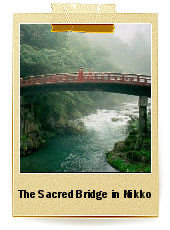 I only wished we could feel and understand the intensity of everything we saw. Unfortunately, that symbolism was simply foreign to us. Admission fee to the shrine complex was USD 15. Another interesting landmark in that area was the "Sacred Bridge" constructed in 1636, and entirely covered with lacquer.