When we finally arrived in Tokyo, we could not find our bicycles. The ferry carried vehicles on four levels, and we simply forgot where we left our two-wheelers. Dusk had already fallen as we disembarked. We cycled towards the city centre to see what Ginza looked like at night. The heavenly skyline of the city as seen from the harbour docks is difficult to express with words, unless you are a talented poet.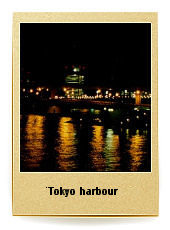 Getting to the centre was by no means easy, because access roads from the harbour were not suited to bicycle traffic. Far-sighted as they might be, the Japanese had not anticipated that people would leave the harbour area on bikes. We found ourselves in a stream of cars again. I was a bit scared to cycle on such busy streets, but in that situation I had no other choice.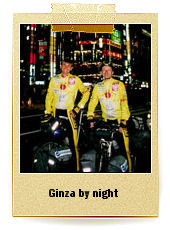 In Ginza we fell in love with local ambience. Thousands of colourful neon signs, people flocking on the streets and sidewalks, exclusive stores, and beautiful Japanese women. We were especially attracted to the latter. There were few other places in that country with such beautiful women – the Japanese are generally not very pretty, in my opinion. We sat down next to the Sony building, admiring those long-legged beauties. Unfortunately, we had to move on, as we planned to reach the city of Musachi, situated 20 km from the centre. This was where Tayaki lived – the guy we met on the ferry. He invited us to stay at his place, and promised to show us around Tokyo on the following day. Even though the distance to cover was fairly short, it took us a while to get to our destination. Firstly, we had to stop at the lights every few hundred metres, which was very annoying. Secondly, we took a turn to see the district of Kabuki theatres and the red light district – Kabukicho.
Similarly to most of his compatriots, Tayaki lived in a very small flat. He paid a monthly rent of USD 500 for an area of just 25 square metres. Next morning he took us for a tour around the capital city of Japan. We left the bikes at home and used public transport. We were happy to have such a good guide with us, as we would have easily got lost on our own. Suburban train timetable was very complicated, and there were too many types of tickets to select from. One thing is certain – Tokyo's public transport system is an exemplary solution. The suburban train system is intertwined with subway lines. How well everything is coordinated is beyond human comprehension. It is enough to say that trains arrive every two minutes at each platform. One more curiosity: people gather at the platform only in places marked with special arrows, which is exactly where the train door open. There is no need for running along the platform. I noticed something even more interesting at a subway station. We waited for a train, standing close to a group of Japanese commuters. After a while the train stopped in front of us, people got out, but even though the train was crowded nobody rushed forward. They did so only after a sound rang out.