I booked three nights at Toji Guest House hotel in advance. Its standard might be compared with our youth hostels. The difference was in the interior design (obviously Japanese) and a more family-like atmosphere. The hotel was truly a melting pot, seemingly an explosive combination of various nationalities: from Taiwanese through Koreans to Hong Kongers.
We tried to make the most of the two days spent in this former capital of Japan (from 794 to 1868). Still, we saw just a fraction of Kyoto. In order to get to know the city better you need at least a week, so that you can visit one of many temples and then walk around the narrow streets of the oldest part of the city, absorbing its unique atmosphere. Although Kyoto is home to 1.4 million people, we did not notice any of the typical disadvantages of a big city. This was probably due to Kyoto's "ingredients": more than 2000 temples and shrines, dozens of gardens and museums. Below you will find a short description of the most interesting places we saw in Kyoto.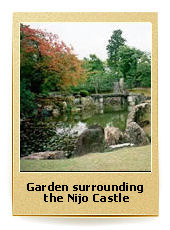 Nijo Castle
It was erected in 1603 as Shogun Ieyasu's residence. In addition to interesting interiors (ornamented with impressive paintings), we liked the adjacent garden designed by the famous landscape architect and tea master, Kobori Enshu. Inside the palace we admired so-called nightingale floors, constructed in such a way so as to make a chirping sound when walked upon. The squeaking floors were used as a security device, warning the guards against approaching intruders.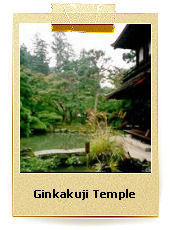 Ginkakuji Temple
In one of Kyoto's magnificent parks there is the "Temple of the Silver Pavilion", which in fact has never shined with moonlight colours, as its creator – Yoshimasa – once intended. The wooden walls have a warm brown colour that stays in contrast with the whiteness of paper (with which sliding windows and doors are lined) and gypsum (used on some walls). The Silver Pavilion is surrounded by a garden – a small masterpiece employing strictly natural materials such as water, trees, rocks and sand. A small, irregularly shaped pond seems much bigger thanks to the skilful positioning of shrubs and stones on its edges. Walking on a winding path – along tiny bays, miniature rocky shelves with pine twigs bending over water, and islets connected to the shore by flat stone footbridges – you can constantly discover new perspectives. Each stone covered with moss seems to express its individual identity. Trees, bushes, ferns with various shades of green, with different twig shapes, varied leaf and needle patterns; water embracing tufts of grass, glistening in the sun, clear and transparent under rock shelves; gravel on the footpath – it all combines into a perfect landscape. Apart from the natural pond, there is also a "lake of silver sand". Fine, light-grey sand forms a tall, irregularly shaped dune. Waves drawn on its surface with a rake are supposed to reflect the moonlight and diffuse it all over the garden. Next to the dune, there is a small pile of sand symbolising Mount Fuji.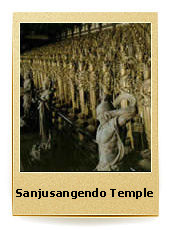 Sanjusangendo Temple
Built in 1164, and later rebuilt in 1266 after a fire, this long edifice houses no fewer than 1001 statues of the Thousand Armed Kannon, standing in five rows. According to Buddhist beliefs, Kannon is a deity that renounced a state of nirvana in order to help people achieve it. The tallest statue is situated in the centre of the room, between two sets of smaller statues (each set totalling five hundred pieces). Contrary to what the name suggests, each Kannon has 40 arms rather than 1000. In Buddhism, 40 arms is equal to 1000, as each contains 25 worlds.
Imperial Palace
This place still serves as the venue for major events related to the imperial family, e.g. weddings or coronations. In order to visit this rather average monument of architecture, you need to make a reservation – or in other words obtain a permission for visitors – at least one day in advance. When you are there, a guide will tell you in broken English the history of the palace.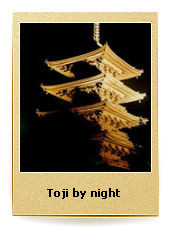 To-ji Temple
From the year 794 on, at the Emperor's order, the main objective of this facility was to protect the city. Standing 57 m high, with 5 storeys, it is currently the tallest pagoda in Japan.
Chion-in Temple
Aside from a breathtaking garden created by one of Japanese emperors, this place prides itself on Japan's biggest main gate (so-called tori) and the biggest bell weighing 74 t. No fewer than seventeen men need to gather all their strength to make it chime. Interestingly, there is no clapper inside the bell – it is struck on the outside.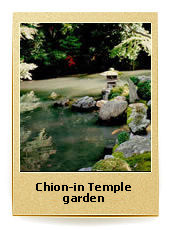 Shoren-in Temple
A typical Zen temple, with a meticulously designed garden that gives the impression of natural disorder, but keeps stunning the visitor with new picturesque views behind every corner. Blissful silence disturbed by no sounds but the rush of waterfalls. You feel like staying here forever. In one of the buildings tea ceremony is held every hour. I had always wanted to see it with my own eyes. I was a bit disappointed, however, because the ceremony lasted only 20 minutes, and not one hour – as I had expected. It was probably solved this way because few people these days can take a break from reality for as long as an hour. It's a pity, but the ceremony itself was interesting. At the beginning the guest is welcomed by the hosts – in our case they were two Japanese women wearing kimonos. As the guest is treated to a snack, one of the ladies is preparing tea. Each move is well balanced and precise. It is a unique show.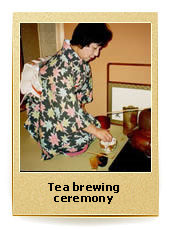 After all necessary utensils are ready, boiling water is poured over a portion of powdered green tea in a bowl, and the drink is mixed with a special bamboo whisk. The tea has a consistency of green milk with foam, and a characteristic sweet and tart taste. I liked it a lot! It is considered polite to slurp while having the last sip to show that the tea was tasty. Finally, taking a close look at the tea bowl is a must. Usually it is a tiny work of art.
Kinkakuji Temple
This is one of the most famous landmarks of Japan – the Temple of the Golden Pavilion. A photo of this building – rebuilt in 1955 after a fire that was set by a mentally ill monk – can be found in every photo album or a travel guidebook on Japan. The gleam of golden walls is reflected by the water of a pond, vibrating in the wind and skimming over islets. The place looks the most beautiful when the sun approaches the horizon. At that time golden reflections no longer dazzle the eyes, but embrace the garden with twinkling rays.