A few kilometres outside of the city we met a group of cyclists training on road bikes. They looked funny in helmets resembling archaic motorcycle helmets. On our way I was admiring spectacular views that were somewhat obscured by smog. Later in the evening, as the sun sank towards the horizon, we saw THAT – our hill – as Sławek put it. The divine, majestic Fuji-san. My heart started beating faster. There I was, looking at the mountain of which I had been dreaming for so many months. Mountain to which we were rushing throughout our expedition in Japan. Although we could not see much from afar, one thing was certain: there was snow on the top.
Completely exhausted we reached the city of Fujiyosida, where we intended to spend the night. But first we needed to get some information. It took us a while to find the railway station where a tourist information office was located. Quite surprisingly, the staff was English-speaking. We were told that at this time of the year (20 September) almost all camping sites were closed. Only one remained open: New Bridge Camping. However, we needed to pedal a bit farther – to Lake Kawaguchiko. After a long search we found the place, but we were in for a surprise. The facility stood in complete darkness, and we did not notice any tents. Something was definitely wrong. As we later found out, the camping/tenting season was already over – at least for the Japanese. Therefore we decided to spend that night in a different place – on a lake shore. That was the worst night I spent in Japan. We set up our camp in a place where people constantly walked by, waking us up all night long. It was not until the morning that we noticed that there were several anglers in the neighbourhood, and our tent stood in the middle of their path to the toilet.
The morning was sunny, sky as clear as crystal, so Fuji-san looked magnificent. We decided to climb it later that evening. We went to a camping site, paid JPY 2600, and having unpacked our things, we began preparations for the climb. We needed to dismount mudguards and racks, as well as change road tyres for mountain ones (we carried a spare set of kevlar tyres). We looked around the camping site. I was disappointed with its poor standard, even compared with Polish conditions. We packed all necessary things in our backpacks, remembering about clothes for all weather conditions. After all, high up in the mountains we could expect a sudden change in the weather, with low temperatures. We also prepared suitable food supplies. In the afternoon, we took a nap in order to rest before the overnight climb. All our plans were thwarted by the rain that started in the morning. We had no other choice but reschedule the trip for the following day. After waking up at 6 am, we quickly packed our stuff and off we went. The morning was cold and unpleasant, clouds hanging low over our heads. Having paid JPY 320, we were allowed to cycle on the Subaru Line road leading to station number five. What station? – you might ask. The name stems from the times when pilgrims climbed to the top starting from Fujiyoshida. The entire route was divided into 10 sections with intermediate stations, where people would take breaks for rest and prayer. Station Ten is situated on the mountain top. The fifth one – at the elevation of 2305 m – can be accessed by a paved road. Beyond that point the road turns into a regular mountain track.
As soon as the paved road ended, we pressed harder on the pedals to let off some steam. This way we almost ended up falling off a precipice. Going at a considerable speed, we failed to notice some rocks on a bend, and a major fault behind it. I pressed the brakes at the last moment, making the rear wheel sink into volcanic dust. The bike skidded but I somehow managed to stay on it. I regained control of the two-wheeler no more than one metre before the crash barrier. Phew! That was close! A quick look down gave me the shivers. Well, we had to move on. After cycling another few hundred metres, we noticed our water bottles had fallen out of the backpacks. We got back to the unlucky place, finding the water bottles scattered around every few dozen metres. Back on the track, we eventually reached a point when cycling was no longer possible. The road surface was so loose that the wheels kept losing grip. We had to walk the bikes. There were some Japanese tourists on the track, heading for Station Six. We also met a few Russians, which was very surprising. The higher we were, the more difficult the route. Eventually we were forced to carry the bikes on our shoulders.
There was nobody around. We travelled through thick fog, walking slowly metre after metre, passing shelters located at successive stations. They were all closed, their doors and windows nailed up with boards. It was long past the mountain climbing season when the shelters were open, welcoming up to 3000 tourists every day. This hustle and bustle usually lasts from early June to late August. When we were there, we wouldn't have got inside even if something bad had happened. Probably this was why a man died on the mountain just two days before our climb. He froze to death – a stark warning for all those who underestimate the power of nature. It was getting colder and colder, and the climb was becoming increasingly difficult, especially with the layer of ice under the snow. Wearing SPD shoes, we risked twisting an ankle or falling and getting hurt. After climbing a few dozen metres up, we decided that going farther was pointless. It was too slippery. Besides, it started hailing and the temperature fell to -3°C. We were prepared for even lower temperatures, but not for climbing on ice. We had no crampons and no proper shoes – such equipment would have been too heavy, and we had to pay dearly for every extra kilo of luggage at the airport. Thus we reached an elevation of 3300 m above mean sea level, - which was Station Eight.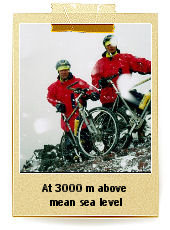 We were not so far away from the top – only 470 m. I ordered retreat, but the descent proved very challenging too. The snow had covered numerous crevices and rocks. Luckily, we did not have to carry the bikes for long. We soon reached the paved road, though the downhill ride was by no means easy. The loose volcanic gravel made manoeuvring very difficult.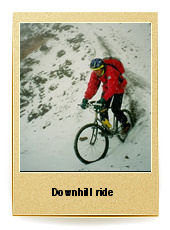 The route had been covered by snow, so we got lost for a moment, being unable to choose between several routes leading up and down. We had to move back to get on the right track again. But there were more surprises ahead. I got a flat tyre, which made me mad. In those conditions it was really bad luck. The hailstorm would not subside, and my wheel was covered in volcanic mud. Fixing the puncture took me a while. We had to hurry, as dusk was approaching. When we came back to Station Five, there were no tourist left, and the shops were being closed. At that elevation snow had soup-like consistency.
We reached the camping site at 7 pm. The following day was sunny, so our clothes could dry. I thought that the weather played tag with us. I glanced at Fuji-san, which looked nothing like the mountain I saw two days before. Its ice cover glistened in the sun, and the upper half of the mountain was buried under snow. We had a photo session with the volcano in the background.
By sheer accident we found out that there was an interesting theme park nearby, so we went there without delay. A curious thing at the entrance – our photos were printed on the tickets. First we tried a small roller coaster. I had never been on one before, so the experience was incredible. I thought I would give up the ghost. I was so scared that I hardly saw a thing. Afterwards we went to a water slide, where the car fell into water from a significant height. However, the main highlight was the ride on the tallest and best (as of 1996) roller coaster in the world: "FUJIYAMA". Actually we were very lucky to find ourselves there, as the attraction had just been opened in June 1996. The facility was entered in the Guinness Book of Records in four categories: the tallest platform – 79 m, the longest drop – 70 m, the greatest speed – 130 km/h, and the longest ride – 2500 m. I tried to prepare myself for what was coming, but I did expect THAT. It is difficult to describe the feeling with words. Even today, when I play a video recorded during the ride, my heart starts to beat faster. Sławek, who had been on many roller coasters before, screamed: "I don't want it anymore!". After the visit to the "Fujiyoshida Highland" theme park we also tried playing baseball. After all, we should not limit ourselves to just one discipline. We took a short practice session. A machine pitched the balls at an unimaginable speed. It was not easy to hit them with the bat. Out of twenty balls pitched, I was not lucky even with one. Sławek, who had some experience in tennis, managed to hit five. After the day full of attractions we finally went to sleep.