As we set off for Nikko, we were joined by a Japanese lad named Hiroki Busujima. He told us he had just bought a new bicycle. He was bursting with energy, and we shared his enthusiasm. We cycled together for 100 km, averaging 30 km/h, which is by no means easy with heavily loaded bikes. After all, we carried more than 35 kg of luggage.
Hiroki spoke excellent English – he was a scientist specialising in genetics at Sanyo. He lived in Ota, close to Nikko, and he offered to show us a less busy route to his town. Thank you, Hiroki! At that point I was already fed up with stinky exhaust fumes and continuous noise. On our way we visited a small Shinto shrine, where we prayed for the success of our expedition. In Ota, Hiroki invited us to a restaurant for dinner.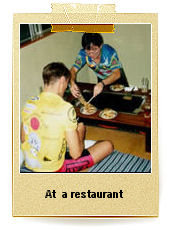 The place was out of the ordinary, specialising in dishes cooked right in front of customers' eyes. The tabletop at which we sat was heated, with local delicacies frying on it.
Later Hiroki took us to what he called a health centre. It was a facility with health and beauty salons, as well as an excellent Japanese bath, where we bathed in some herbal extracts. One of local curiosities was a TV set installed in… a sauna. Unfortunately, we had to leave on the next day. Hiroki, in turn, had to go to work. We were sad to say goodbye, but at the same time we were happy to have finally met a nice Japanese.
Our moods lifted instantly when we reached the mountains, having left behind highways with their terribly busy traffic. In the evening we took a turn towards some buildings we saw in the village of Azuma-mura. Looking for overnight accommodation, we approached a farm, and entered its courtyard. To our great surprise, we saw dozens of tiny bonsai trees, some of them a few dozen years old. There was also a spring and a fish pond. Everything was surrounded by rocks and trees. Amazing! Having learned by heart several Japanese words and expressions, I explained to the owners what we needed, and they invited us in. It was a remarkable experience for both of us. A typical Japanese house with sliding walls and the floor covered with tatami mats. Before we got in, we had to take our shoes off. In the room where we sat, there stood a table, just 25 cm high. We sat on the tatami, placing our legs in a recess under the table. We covered our knees with a blanket that was attached to the table. In the recess there was a radiator, so after a moment I felt a nice warmth circulating all over my body. Our host offered us soup and numerous Japanese dishes, such as bread rolls filled with pumpkin paste. I had a feeling she was doing her best to show us hospitality. We were yet to discover that we were truly lucky to have met so open and hospitable Japanese people. The evening was even more charming thanks to green ocha tea, which tastes different than imported Chinese teas that we drink in Poland. Ocha has a more tart taste, and a different brewing method. Rather than being poured over with boiling water, it ought to be combined with water at a temperature of around 80°C. For dessert we had Japanese pears – very juicy and looking like… apples. In the end we stayed for the night in a different place. Our hosts arranged everything, suspecting that we would feel more comfortable among people who spoke English. Much to our surprise, our new hosts were Nepali. They had come to Japan to work, because Nepal was a poor country. In Japan they could earn 20 times as much as in their motherland. Next morning we came back to the farm in Azuma-mura to express our gratitude and to take a look at the neighbourhood in daytime. I could not believe that the house was 130 years old. It looked like new. We were also told that the family settled in that place some 500 years before, and our hosts were already the tenth generation! They invited us to breakfast, and did their utmost to put as much food on the table as possible. We felt uneasy, as we did not want to abuse their hospitality. Nevertheless, our mental batteries got fully charged up.
The road to Nikko was steep, with a particularly tough climb to Lake Chuzenji, but a funny meeting with monkeys (the Japanese Macaque) made it more interesting. A few monkeys sat on the roadside, waiting for someone to offer them fruit. We pulled over to film them, and they came to us immediately. Sławek searched through our food supplies, wondering what to give to the monkeys. In the meantime one of them – obviously impatient – tried to snatch a bag out of Sławek's hands. Despite his awe, Sławek remained cool and did not let go the bag. In response, the angry monkey bared its impressive teeth at us.
Taking a curvy road we reached Chuzenji Lake, which was not noteworthy. We also saw the 97 m high Kegon Falls, infamous for attracting suicides. According to the "Lonely Planet" guidebook, each year up to a hundred people try to follow the steps of Icarus in that place. Leaving the waterfalls, we took a winding downhill route leading to Nikko. Thirty curves at full throttle, passing hundreds of cars on the way. That's what I like!