22.02. We have just added two options at our website: newsletter and guestbook. You can subscribe to the newsletter by ticking options you require, e.g. "trips". Then you will receive the newsletter only with links to updated or new trips.
13.02.
We have finally uploaded a full translation of the coverage of our last journey.
6.02.
We gave a lecture about our expeditions in a junior high school in Budzyn (
http://gimpw.neostrada.pl/
). Local youth invited us to visit them as part of the project entitled "Bravely across the world". We decided to join in. We were truly happy to meet more than a hundred young people who were really interested in our story.
The recumbent bike we showed at the end of the lecture – HP Velotechnik StreetMachine – generated great interest. It was presented fully equipped for a major expedition. Three brave volunteers even took a ride. Round of applause for the Budzyn school for great atmosphere.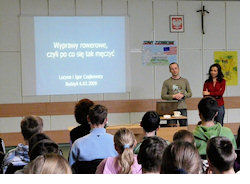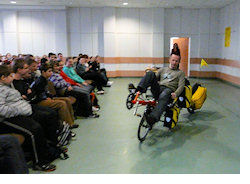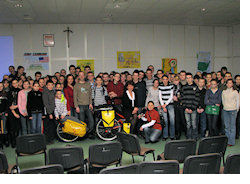 2.02.
We are still working on English translations of our website. We have managed to upload the text about the last journey, but there never seems to be enough time to finish everything.
1.02.
The website is still being improved. We are planning to add a Visitors' Book to let you share your opinions about our sites. Newsletters will also be available with selectable topics of your interest – if you choose "expeditions", you will only receive a newsletter with information about new or updated websites covering our journeys.