Next day we cycled back towards the Grand Canyon – this time to Grand Canyon Village, a major tourist destination in that region. Spending a night at a camping site (for USD 15 per tent) was a good idea – a hotel room would have cost at least USD 100.
On the same evening we took a short trip along the Canyon rim, watching the last orange rays of the setting sun fall on the rocks and cast long shadows.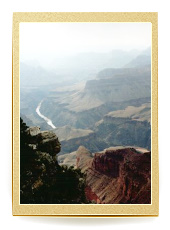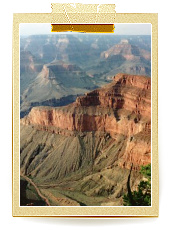 We cycled 15 km from the centre to a place called Hermits Rest, which marks the end of the popular West Rim Drive, with its numerous vantage points. In a Tourist Information Office we were told that cycling further down the Canyon was prohibited. What a shame. There was nothing else left but to walk down. However, some trails were closed that day, being damaged by the storm a night before. We chose Kaibab trail, steep in some places, but definitely doable on a bike. Admittedly, with quite a few tourists on the trail, cycling down would not have been comfortable. We had to do without a crazy downhill ride. We walked down at a fast pace, passing several tourists. Those going in the opposite direction did not look particularly "fresh" – rather sweaty and tired. True, the temperature wasn't pleasant. Scorching heat and no water on the trail, let alone a snack shop. A tourist hostel with the life-giving liquid was all the way down, on the bank of the Colorado River. Anyway, we were well prepared, with 3 litres of water per capita and ample food supply. The guidebook rightly contained information about the risk of sunstroke. Moreover, people warned us against planning a "down & up" trip in just one day. Too much effort, too high temperature, etc. But they did not know how though we are! Half way down we met a park ranger, who told us the same thing – either go straight back up, or go down and stay in the shelter until the next day. We explained that we only wanted to go just a bit further, and promised to return soon. He believed us, but we went all the way down to the river, of course. We crossed a hanging bridge over the Colorado River, whose water was creamy-brown because of the previous day's storm. We found ourselves 900 m below and 16 km away from the Canyon rim. The air stood still. Well, actually it was vibrating due to the heat. Some tourists were preparing themselves for rafting in giant inflatable boats. We were told that in order to try rafting, you have to book a boat at least one year in advance!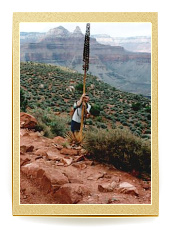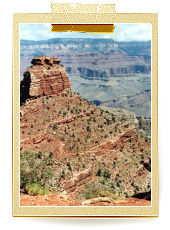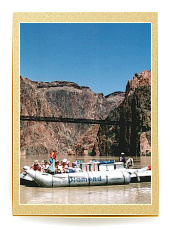 We were pressed for time, so after filling our water bottles we turned back. On our way up we came across a group of Americans (still descending), whom we passed earlier that day. One of them looked at us and said: "Must be Germans" (in other words: only Germans can go all the way down and up on the same day).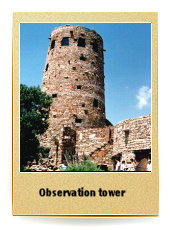 Eight hours after we reached the bottom of the Canyon, we were back on its rim. Good timing, but it cost us some calf pain.